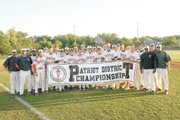 What the West Springfield baseball team may have lacked in classroom work or sleep over the course of Monday night and throughout the day on Tuesday, the Spartans more than made up for it with redemption on the baseball field.
After 14 innings and nearly five hours Monday night at Lake Braddock Secondary School, the team's Patriot District title game against South County was postponed until Tuesday. Given the chance to rethink things and make a few adjustments, two Spartans played pivotal roles in Tuesday's finale, which ended in a 4-3 win after only 28 minutes on sophomore Trevor Snook's bases-loaded squeeze bunt.
Snook was hitless the night before and had admittedly been struggling at the plate during the second half of the season. Although he drew two walks Monday, Snook was much more confident in his ability to get a bunt down than to drive the ball into a gap somewhere.
"Bunting-wise, I feel like I can get anything down. Hitting-wise, I've been struggling at the plate," Snook said. "So I was kinda happy [Spartans coach John James] called that because it kinda bailed me out."
Of course, Snook's bunt wouldn't have meant nearly as much had junior Charlie Morgan not started the rally with a one-out double into the gap in left center. Morgan, also unhappy with his performance during Monday's marathon, went home after school Tuesday around 3 p.m. and reviewed tape of every one of his at-bats with his father.
The two determined that Morgan was diving into pitches a bit too soon and consequently topping them, so he made a concerted effort Tuesday to stay back and not be so anxious. Facing South County's Tyler Frazier to lead off the bottom of the 16th inning, the left-handed hitting Morgan saw an outside curveball -- the precise kind that requires patience and an opposite-field swing.
"I was trying to stay back, put a good swing on it, hit it hard and that's what I did," Morgan said.
Frazier intentionally walked Bobby Wahl to produce a force play, and Tucker Tobin's deep fly ball to right eluded South County's Nick Digby. So with the bases loaded and one out, Snook walked to the plate, remembering a conversation he had with James earlier in the day.
With one out in the bottom of the 14th inning Monday night, Snook struck out when he batted with the bases loaded. During school Tuesday, James told Snook to be ready. He may choose to do something different if that situation arose again.
James did. With the sign for a suicide squeeze, Snook bounced the second pitch he saw between the pitcher's mound and the third base line.
"This is the time of year where you have to have that golden horseshoe in your corner, and we got a break today," said James, whose team improved to 18-4 this season with the win. West Springfield will now host Washington-Lee on Friday night in the first round of the Northern Region tournament.
"We didn't bat an eyelash," said James, of the layover. "There was no panic. There was no letdown. It was just, 'OK, let's take a little rest, and we'll be back tomorrow.' I give [the players] credit. They kept their minds right, kept their intensity up and focused."