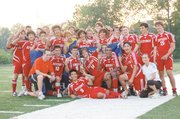 In soccer, unlike most other sports, victory and defeat are often not justly discernible by virtue of a score. In 80 minutes, one team can be thoroughly outplayed. However, because of a lucky bounce or an opportune pass, that team collects the only goal necessary to produce a 1-0 win.
At the beginning of this current season, the Jefferson boys' soccer team saw itself on the unfavorable end of those outcomes more times than it would've liked, at least as far as the score was concerned. But, even though they started the year at 2-2-3, the Colonials were evenly matched with those they faced.
According to fourth-year coach Sean Burke, it wasn't until a 1-1 tie with Stone Bridge on April 17 that the team truly realized everything it was capable of this season. A week after the Stone Bridge tie, Jefferson rallied from a two-goal deficit at W.T. Woodson to claim a 3-2 win, further proving Burke's theory to be correct.
"Once we tied Stone Bridge the first time, I think people were like, 'OK, we can do this now,'" said Burke, whose team entered last week's Liberty District tournament as the No. 5 seed and knocked off South Lakes and McLean to reach the title match.
With a 1-0 upset of Stone Bridge on May 15, Jefferson claimed its third straight Liberty District crown, a win that was perhaps the unlikeliest of them all considering it came against the defending Northern Region champions.
"I think for them, they just did everything they could to try and deal with a Stone Bridge team that's just incredible," said Burke, whose Colonials captured the 2007 Virginia AAA state title with a 1-0 win over Osbourn Park, capping a 17-1-5 campaign.
"Stone Bridge outplayed us," Burke said. "They had more chances than us. They're better than us. They're better coached than us. But that's not how soccer works. Soccer doesn't always make sense."
<b>EVERYTHING RELATIVE</b> to Jefferson's regular season could summed up by junior Sean Lee's second goal of the playoffs, which came off of a corner kick and served as the deciding margin against Stone Bridge. Lee also scored the game-winning goal during a 1-0 win over McLean on Wednesday, May 13 in the district semifinals.
Lee had been bouncing back and forth between outside mid and outside back -- where he scored from against Stone Bridge -- this season, and he was playing at both spots for his club team, too. Without a position or any semblance of continuity, Lee wasn't delivering the breakthrough performances that Burke was expecting.
But when the regular season started to wind down, Lee's outburst was just beginning. He had two goals and five assists in his last four games before Tuesday night's regional tilt with Oakton, which the Colonials won, 2-0. Now they advance to face Wakefield in the quarterfinals on Thursday.
"I think he just needed a little time to figure out where to play and where we were putting him," said Burke, whose squad improved to 9-2-5 with the Oakton win. "He's got all the skills. Now he's got a little confidence and he's just off and running."
For Burke, as self-deprecating as they come, the inherent blame for Lee's late-arrival would probably fall on his shoulders, by his own choice. In fact, Burke admitted that when he's watching video to review his team's performance, he cringes sometimes at his own coaching moves.
"When I watch the game tape, I think, 'What was I doing?'" Burke said. "I keep hoping one of these days I'll get it, but it's not close yet."