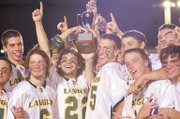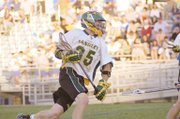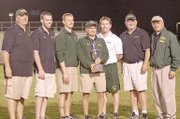 At times during Langley's breath-taking, 6-5 overtime win over Robinson, it appeared that the Saxons' quest for their first-ever Northern Region boys' lacrosse crown would, once again, come up short.
But this time was different. Langley, which trailed by two goals at one point during the third quarter of the title game, was determined to fight back and ultimately come away victorious.
Longtime Saxons' head coach Earl Brewer recognized that team trait — relentless determination — early in the season when his team, in a non-region contest against Broad Run, overcame a 5-0 deficit to defeat the Spartans.
"I told one of my assistant coaches on the bus [after that game] this is a special group of guys," said Brewer. "It's those intangible things. These guys are a bunch of winners, they really are."
Any doubters going into the region championship against perennial powerhouse Robinson went away believers following the breakthrough victory, which took place May 20 at South County High School.
UNDER BREWER, Langley had reached the region title game on three previous occasions — in 1995, 1998 and 2005 — only to come up on the short end of the score each time.
All those associated with Langley lacrosse were hoping that last week's region final game would be different for Brewer, the program's 15-year head coach, and his troops.
When Langley's Ethan Bailey, a junior attack, juked a Rams' defender before firing in a 10-yard shot from the left side with 3 minutes, 2 seconds remaining in a second, 4-minute sudden victory overtime session, the Saxons finally ruled the region.
The spontaneous Langley celebration following the game-winner was priceless for any Saxon rooter.
During the postgame awards ceremonies, Brewer, upon being recognized for his team's achievement, waved and blew a kiss to the adoring Langley crowd.
Moments later, an emotional Brewer recounted his immediate thoughts when Bailey's shot went into the net giving Langley the win.
"I really thought about a lot of people in my life," said the coach, of those who have made monumental impacts on his career.
He said he also thought of his hard-working assistant coaches and the positive impact they have been on his players.
He marveled at his team, this year's Liberty District champions who, in the region tourney, defeated solid teams in Oakton, Lake Braddock and Chantilly to reach the finals. The first round victory over Oakton was a breakthrough against an opponent that had eliminated the Saxons from regionals in four of the past five years.
Now, with the region season completed, Langley (18-1) will move on to the upcoming state tournament where the Saxons will host a first round game this Saturday.
THE REGION FINALS contest was a close one throughout. Langley's Bailey (three goals) tallied the game's only first quarter goal less than 3 minutes into the start of play. The Saxons appeared to get the better of play throughout those first 12 minutes.
Both teams continued to play outstanding defense throughout the second quarter. Langley still held its 1-0 advantage deep into the stanza when Robinson freshmen attack Alex Barber made a catch and close-up score to tie things with 2:55 remaining in the half. Moments later, the Rams, with some momentum on their side, found the net again on a goal by junior attack Connor Ruddy to make the score 2-1 Robinson.
But, in one of the game's biggest moments, Langley tied things up with 14 seconds left in the half when junior midfielder Joey Bryne, moving right to left across the goal area, threw in a sizzling, left-handed, 12-yard bouncer shot into the net to tie the score at 2-2.
Behind goals from senior attack Daniel McNulty and junior attack Thurmond Shaw, Robinson moved out to a 4-2 lead in the third period. The second Rams' score came with 4:18 left in the stanza.
But Langley would answer strongly with two goals in the final 1:45 of the third. Senior midfielder Alex Devlin scored the first of the two for the Saxons on a running, 10-yard scoring strike from the right wing. Several moments later, Langley found pay dirt again when Bryne scored from close range on a hard bounce shot with 29 seconds left to tie things up at 4-4.
But Robinson, less than 2 minutes into the fourth period, re-gained the lead on a goal by McNulty.
Langley, however, scored the equalizer with 7:14 remaining. Bailey, coming into the goal area hard from the left side, took a strong shot on the net. It appeared to be stopped by the Rams' net-minder, but the ball rolled off of his shoulder and into the net to make the score 5-5. Both teams had several close scoring chances throughout the remainder of regulation and over the ensuing first, 4-minute sudden victory session.
Finally, about 1 minute into the second sudden victory session, Bailey scored the dramatic game-winner, his third goal of the game.
"When he shot it, it looked awfully good coming out of his stick," said Brewer, confident Bailey was going to score.
It was an excited group of Saxons following the win.
"We've never won the region in Langley history," said senior attack Ryan Ningard. "This is a big, big deal to us. We came in here fired up. We believed we could do this since day one."
Ningard was behind the Robinson goal area and had an excellent view of Bailey's overtime score that finished the game.
"Ethan has a laser shot, and he took a smart shot," said Ningard.
OVER THE YEARS, Langley players have had to listen to skeptics lament about the Saxons' lack of big game prowess.
"They always say Langley doesn't have any heart," said Devlin, the team's talented midfield player. "But we do. We trust each other and don't panic."
Langley kept its head after falling behind by scores of 4-2 and 5-4 in the second half against Robinson.
"You get down in games," said Devlin. "Two goals is not that much."
"When we got down by two, we didn't panic," said Ningard.
Devlin said the Saxons upped it a level in overtime.
Particularly outstanding was the play of Saxon senior goalie Galen Kuney, who made several game-saving stops.
"Everyone raised their game in overtime," said Devlin. "Galen had about four saves in overtime. He was terrific."
Kuney credited his defense in front of him with coming up big in the win.
"[Robinson's] McNulty is an awesome player, but we played awesome defense," he said. "I can't say enough about our defense."
Kuney said he did his best to keep the focus on his game in the overtime and not get overwhelmed in the moment.
"I tried to forget about everything else," he said. Then, with a laugh, Kuney said, "I was trying not to feel pressure."
Devlin reflected on the magnitude of being champions.
"We're the best in the Northern Region, that's enormous," he said. "Being No. 1, that's a big title we've got right now."
But one that's well earned.