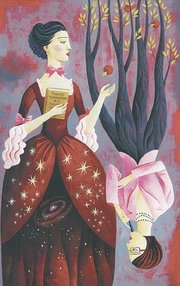 The thing about time-spanning stories is their ability to shine new lights on attitudes in each time period, as amply demonstrated in the new 18th and 21st centuries human drama/comedy by local playwright Karen Zacarías, which is having its world premiere at Arena Stage in Crystal City.
Zacarías repeatedly shifts between her story of a fictional contemporary astrophysicist and a historical figure, Emilie du Chatelet, who was Voltaire's lover and a ground-breaking mathematician and physicist. While Zacarías touches on many cultural themes, her concentration is on the issues surrounding pregnancy, childbirth and maternal instincts. By viewing these matters through the kaleidoscope of different times she probes the issues with a sympathetic but insightful touch.
The secret of the success of the play — and successful it is in this handsome and well performed premiere — is that she creates characters for both women that bring them to life, not just as representatives of their times, but as people with hopes, fears, favorites and attitudes that ring true. Her Emilie, who at age 42 finds herself "with child" in a time when childbirth at that age was extremely dangerous, is no less believable a character for contemporary audiences than is her 21st century astronomer who has survived a cancer but been left incapable of bearing a child.
Each woman copes with her situation in a forthright manner, as you might expect of highly disciplined scientists. They examine the issues, compare options and make plans. For Emilie, the solution is to take the months of gestation to complete her life's work, a study of the mathematical properties of light. If she can complete it before coming to term, her life may be in danger but her work can survive. For contemporary scientist Olivia, the solution is to engage a young woman named Emily to be artificially inseminated to carry a fetus to term.
Zacarías' delightful sense of whimsy kicks in as she creates a psychic connection between Emilie and Emily which shakes things up dramatically — or is that comedically? The second act turns fanciful in unexpected but both entertaining and satisfying ways.
Molly Smith, the artistic director of Arena, directs this production and has given it every opportunity to succeed with a strong cast and an equally strong design team. Lise Bruneau makes 18th Century Emilie seem very much a woman of her time while avoiding excesses of mannerism that could keep us from seeing the emotional core of the character. Carla Harting doesn't have to cope with the three-century gap between her character and the audience's experience, so the quality of her performance may be less surprising or even noticeable but she does a fine job of letting the audience understand the pain of her inability to bear children.
It is Lindsey Kyler, however, who hits the highest of highs and makes the strongest impression in the dual role of Emily, the surrogate hired in a "rental womb" arrangement, and of Emilie's own daughter, herself at supposedly marriageable age. The cast also includes Stephen Schnetzer who sparkles at times as Voltaire, and David Covington and Michael Russotto add dual roles of the other men in the ladies' lives.
The Arena production rises to the occasion visually as well. Linda Cho has designed sumptuous formal court-quality costumes for the 18th Century scenes and given the contemporary characters a collection of casual outfits while set designer Marjorie Bradley Kellogg spans the periods with the unifying themes of a telescope and Newton's famous apple tree.
While this delightful show is playing, Arena has also announced its 2009-10 season and put season subscriptions on sale. Four of the season's six shows will be presented at the Crystal City facility they are using while their campus in Southwest Washington is under construction. They are the musical "The Light in the Piazza" with its lovely score which won a Tony Award, the sharp comedy/drama "Stick Fly," Jane Anderson and JoBeth Williams in the drama "The Quality of Life" and a multi-media solo-performer piece on R. Buckminster Fuller, "The History (and Mystery) of the Universe."
The two shows to be presented at the Lincoln Theatre in Washington will be musicals — Tom Jones and Harvey Schmidt's fable "The Fantasticks" and the Duke Ellington revue "Sophisticated Ladies." Subscriptions for three or more shows are now on sale.
<i>Brad Hathaway reviews theater in Virginia, Washington and Maryland as well as Broadway, and edits Potomac Stages, a web site covering theater in the region (www.PotomacStages.com). He can be reached at Brad@PotomacStages.com.</i>