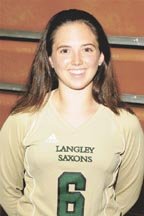 For Langley High girls' volleyball coach Susan Shifflett, juggling her line-up has been a big challenge late in the season.
Because the Saxons, like so many high school athletic teams across Northern Virginia, have had to battle seasonal illnesses to many of their players, finding cohesiveness on the floor has been a challenge.
"It's been a very weird season for us," said Shifflett, whose overall young roster consists of just three seniors. "I've never had a season where so many girls were sick. I don't think we've had the same line-up for two consecutive nights in a row."
The coach said about half of her 12-member varsity roster has been hit by some sort of bug.
"It's not swine flu," she said. "We've had bronchitis and real bad colds where they've had to miss school. We're healthy now. Hopefully, no one else will go down."
Going into this week, Langley was 11-5 overall and was carrying a four-match win streak. Team wins last week came over non-region, private school opponent Maret School (Wash., D.C.) on Oct. 27 and Liberty District, cross-town rival McLean. The Saxons won both home matches by scores of three games to none.
Shifflett, whose team concluded the regular season at 11-5 with the victory over McLean, said the home match against the Highlanders was particularly exciting with a big, enthusiastic crowd on hand.
"It was a high pressure situation," said Shifflett, of the friendly rivalry meeting between the Highlanders and Saxons. "We get more fans [when McLean visits]. McLean is so fired up to play us. It adds an extra element to the game. [Whether McLean or Langley is] good or bad it doesn't matter, there is an element of surprise. You never really know what that energy will bring."
Langley concluded the regular season as second place finishers behind first place Stone Bridge in the district standings. Last year, the Saxons and Bulldogs met in the district tournament finals with Stone Bridge taking the finals meeting. There is certainly a good chance the two teams will meet again in this year's tournament title match.
Langley was scheduled to begin the postseason with a first round district tournament match, likely against South Lakes, on Monday of this week. A win there would put the Saxons into the following day's semifinals round. The district championship match is scheduled for Thursday night (Nov. 5) at 7. Both the semifinals and finals were set to take place at Stone Bridge High in Ashburn.
The 16-team Northern Region playoffs are scheduled to begin next Monday (Nov. 9). A year ago, Langley reached the region tournament's second round before losing to Herndon. Two years ago, in 2007, Shifflett's Saxons captured the region crown.
<b>LAST WEEKEND</b>, district coaches gathered to nominate this year's All-Liberty District teams. Langley was well represented with five players being selected. Elysse Richardson, a setter/libero player, was chosen as the District Player of the Year.
The senior is the heart and soul of the Saxons, according to Shifflett. Richardson and junior middle hitter Kathryn Caine both were Langley's First Team honorees.
Meanwhile, sophomore setter Nikki Hero earned Second Team recognition and both Carlie Owen and Lainey LeBlanc, both senior outside hitters, made Honorable Mention.
Langley went 6-1 against district opponents during the regular season with the victories coming over Fairfax, Jefferson, Madison, South Lakes, Marshall and McLean. The Saxons' only district loss came to Stone Bridge, 3-0, in a road match on Oct. 15.