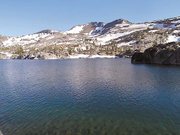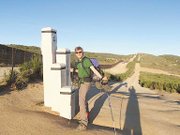 After 2,654 miles of hiking in the West Coast wilderness, Philip Schuchardt of Fairfax Station can scratch one item off his bucket list.
This summer, Schuchardt, a 2004 Hayfield Secondary School graduate, realized a lifelong dream to hike one of the most famous trails in the United States.
The path he chose? The intimidating Pacific Crest Trail.
"It was a childhood dream of mine to hike the Appalachian Trail," Schuchardt said. "But when I worked for the U.S. Forest Service along the Pacific Crest Trail last summer, I decided to shift my plans and do that one instead."
Schuchardt, a 2008 Virginia Tech graduate, left his job as a software engineer in Blacksburg, Va., and from April 20 to Sept. 5 navigated one of the toughest hiking trails in the United States.
The trail starts at the Mexican border, near Campo, Calif., and ends at the Canadian border near the town of Manning Park in British Columbia.
Pacific Crest Trail Association spokesman Brenda Murray said only about 500 people attempt the trail each year and few are able to complete it in one season.
"We're not even sure how many have finished it yet this season," Murray said. "You need to be an experienced outdoorsman to even attempt the trail."
The trail's challenges were a perfect fit for Schuchardt, an Eagle Scout and adventure sportsman.
The strong wilderness feel and grand scenery drew Schuchardt to the Pacific Crest Trail over the closer and shorter Appalachian Trail.
"It's like a fairy tale [on the trail]," he said. "You can't believe [this nature] exists. It's just spectacular."
DESPITE THE fairy tale surroundings, each trail stage presented dangers. "The stretch from Southern California to the Sierra Nevada is a lot of desert and dry forest," Schuchardt said. "After that, it's a lot of mountains and snow."
The trail's first leg through the desert was littered with poisonous snakes.
"For the first 700 miles, I saw a snake a day," he said. "[The snakes] get your heart rate going. I almost stepped on one and it was very unsettling."
Snakes weren't the only threat in the desert sections. Dehydration played a big role.
"Most hikers don't pack enough water," he said. "I met people who didn't bring enough water and had to hike almost 10 miles to the next town to get some."
After he survived the Southern California desert, the Sierra Nevada mountain range posed more problems in the form of snow and rain.
"It snowed and rained on me every day for 150 miles," he said.
Even as Schuchardt neared the trail's end, he couldn't escape the troublesome weather.
"The day I wrapped up the trail, it snowed a few feet," he said. "It just kind of reminded me how hard the trail was."
Fortunately for Schuchardt, the trip was made a bit easier thanks to the help of his father, Rick Schuchardt.
"I was his supply guy," Rick Schuchardt said. "I drove along the trail and gave him supplies when he needed them. We'd look for roads that crossed the trail so I could meet him."
The two coordinated supply drops about every four or five days.
"When [my dad] approached me about helping on the trail, I said, 'Well, I wanted to do this myself,' " Philip Schuchardt said. "But when he told me the idea of resupplying me, I thought it was a great idea."
Although his father did not drive the entire trail, the two set up future meetings through a satellite phone.
When Rick Schuchardt couldn't meet his son in person, he sent packages to post offices along the trail for him to pick up.
Despite the dangers that came with the trail, Rick Schuchardt said his son's satellite phone provided some comfort to him and his wife, Jane.
"He had his phone and because of that I knew we could go get him if he broke a leg or needed to get [off the trail]," he said.
The phone also allowed Philip Schuchardt's family and friends to follow him on his journey. The phone could receive text messages and the hiker also uploaded photos and videos to a Web site.
"There aren't many people who get to have this experience," Philip Schuchardt said. "I'm glad I was able to post photos and show everyone what I saw."
With the trail completed, Philip Schuchardt isn't planning to rush out onto a new trail anytime soon, but the urge remains.
"I feel like you should [walk the trail] after a life-changing event," he said. "I had just graduated from Virginia Tech in 2008, so I thought this was a good time to do it. Maybe after something else big happens in my life, I'll try another [trail]."