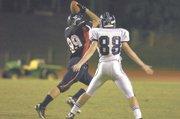 Before practice on Oct. 19, linebacker Josh Hogan and defensive lineman Patrick Bulger sat in the trainer's room with ice bags nursing bumps and bruises they earned during W.T. Woodson's 20-6 victory against T.C. Williams on Oct. 17.
They're the sort of black-and-blue injuries that come and go after a game, but on Oct. 23, Hogan, Bulger and the Cavaliers have a chance to heal one festering wound — a 72-47 loss to West Springfield in the 2008 season.
"We've all been looking forward to this game ever since that game ended," Hogan said. "It's a big game for us and we're going to come at them full speed. We just have to take the steps before the game and go out there and [beat them]."
With the Cavaliers' record now 8-1, the football team is off to its best start since 2004. But the team is focused on avenging last season's ugly loss.
"I've been waiting for this game for a year," Bulger said. "This will be one of our most focused weeks this year. We're working very hard to get back at [West Springfield]."
Tough talk before a big game comes with a certain degree of pressure to perform, but Bulger said his teammates are up to the challenge.
"We all know we can pull it out," Bulger said. "It depends on how we come out in the beginning."
West Springfield is 4-3 this season, but the Cavaliers won't face the Bill Renner-run spread offense that defined the Spartans' 2008 offense.
While the hype might be about the Cavaliers' rematch with the Spartans, the overlooked story this season is Woodson's strong defensive.
In the last four games, the Cavaliers have given up just 34 points to opposing offenses, an average of 8.5 points a game.
"Every now and then I think [our defense] is overlooked," Bulger said.
While senior quarterback Connor Reilly garners most of the attention, head coach Trey Taylor said the defense also is one of the bright spots this year.
"[Reilly] is the big name," Taylor said. "People put more of a spotlight on the offense because everyone likes touchdowns and scoring. There isn't much attention paid to the defense, but we wouldn't be where we are without our defense."
Taylor said that clutch interceptions, defensive stands and smart play by the defense has helped the team to reach the 8-1 mark this season.
"We've had games where we can barely move the ball," Taylor said. "If the defense had given up 28 points, then we would have lost."
Although the offense has its superstar players, the defense has quietly frustrated opposing teams.
"We don't have a superstar on defense," Taylor said. "We just have a lot of kids who know their jobs and responsibilities."
Hogan said the unit's strong camaraderie is one of the reasons it has performed so well.
"We are all so close to each other," Hogan said. "We understand what needs to be done. We just try to have fun while we're [playing defense]."
Although the Cavaliers have a strong record and are expected to be a contender in this season's playoffs, Taylor said he's still preaching the one-game-at-a-time mentality.
"We have our moments where we play well and we play poorly," Taylor said. "We're focused on West Springfield and not letting them score 72 points like they did last year. We're not even thinking about the playoffs yet."