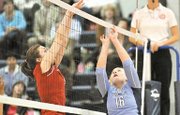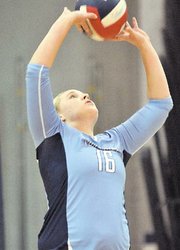 When describing setter Libby Kane's importance to the success of the Yorktown volleyball team, head coach Brittanie Behar compared the senior to the quarterback of a football team.
Kane plays the position of a decision-maker — an athlete who impacts the performance of her teammates with the tips of her fingers. But while Kane is saddled with the responsibilities of a leader, she doesn't experience much of the attention when things are going well.
Even though she touches the ball more than any Patriot, focus on Kane usually ends when all-region outside hitter Elyse Bush or up-and-coming middle blocker Ashley Rock pound Kane's set into the floor for a kill.
Welcome to the life of a setter: plenty of responsibility, not much in the way of recognition.
"It's not a glory position. When you take it you accept that," Behar said. "It's a major control position. You hold so much power in how the match goes. [If] you play really well, you can give your hitters a lot of kills. By the same token, if you don't play well and you're not giving your hitters anything to work with, they can really struggle.
"It's a powerful position, but not a glory position."
JUDGING BY the numbers, Kane is performing well. There's the statistics of her hitters: Bush, a senior, has 225 kills, an average of 16 per match. Rock, a sophomore, has 142 kills, averaging 9.5 per match. Freshman Katie Rock is averaging more than five kills per match and senior Courtney Duran more than four.
There's her own statistics: Kane has 477 assists, an average of nearly 32 per match.
And then there's Yorktown's 12-3 record, including a 6-0 mark in the National District after Monday's 3-1 victory over Stuart.
"I think her control has gotten a lot better," Behar said. "She's focused a lot on her sense of the court, what a good choice is. A lot of setting is choosing. You have certain hitters in the front row, certain hitters in the back row. Based on what kind of pass you get, you have to make a very quick decision on where the ball is going to go."
On Monday, Kane, who finished with 49 assists, was most successful placing the ball just above the net for Ashley Rock or setting it outside to Bush. Rock finished with 18 kills, no hitting errors and a .692 hitting percentage. Bush tallied a team-high 19 kills.
Kane, a second-team all-district selection as a junior, is in her second varsity season. She is trying to be more positive in handling her own mistakes.
I've learned "not to get down on myself if I make one bad set," she said. "It's not a big deal. I just have to keep going and do better the next time. If I'm like, 'Oh, I can't believe I just did that' and I let it get to me, then I'm just [down] the whole game."
WHILE KANE can be hard on herself, she brings a light-hearted, fun attitude to her teammates. She makes her others laugh, sometimes with voice impersonations.
"She's one of the main people that really supplies the fun energy of the team and really brings a positive attitude to the rest of the people," Duran said. "She's very silly. She likes to have a good time."
Kane also plays lacrosse for Yorktown and water polo for a club in Loudoun. She would like to attend college in North Carolina — possibly North Carolina State, East Carolina University or University of North Carolina Wilmington — where most of her family lives.
For now, Kane and the Patriots push toward the postseason.
"If Libby has a good game," Ashley Rock said, "we have a good game."