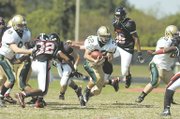 When Langley High running back Marcus Harvey crossed the goal line from five yards out for a third quarter touchdown against visiting Fairfax on Sept. 25, it looked as if the Saxons were well on their way to winning their first game of the season after an 0-3 start.
Harvey's score, followed by Farhan Khan's extra point kick, gave Langley a 14-7 lead with just over five minutes left to play in the third quarter. But as it turned out, the 14 points were not enough for coach John Howerton's team that night in Great Falls. Fairfax scored a late fourth quarter touchdown to tie the game and then won it in overtime, 21-14.
It was a deflating loss for the Saxons, who had seemingly been on their way to their first win of the 2009 season. Instead, following the loss, Langley stood at 0-4.
"It's one where we thought we had a very good chance of winning," said Howerton, the Saxons' seventh year head coach. "We were in control. It was one that got away that should not have."
But since that loss to the Rebels, Langley has slowly started to put things together. Last Friday night, the Saxons soundly defeated Jefferson, 46-14, in a Liberty District game played at Langley. The victory was the third in a row for Langley (3-4).
"It certainly makes you feel good," said Howerton, of his team's three-game win streak following the 0-4 start. "We knew we had a young team and that it was going to take some time. We had some tough games early."
Langley opened the season with a 38-0 home loss to Lake Braddock, followed by another setback at home, 42-20, against Chantilly the following week. Then, in its first road game on Sept. 17, Langley fell to Madison, 14-0, in its district opener. The loss to Fairfax came the following week.
Langley finally got into the win column on the afternoon of Saturday, Oct. 3 when it defeated Herndon, 28-13, on the Hornets' homecoming.
"The Herndon win was huge for the program," said Howerton, of defeating a Hornets' squad that qualified for the Northern Region Div. 6 playoffs last year and had started this season 3-0.
The Saxons followed that up with a triumph at Marshall, 21-7, on Oct. 9, followed by the lopsided victory over Jefferson last week.
Langley will host unbeaten district opponent Stone Bridge this Friday night in the Saxons' final home game of the season. Langley's final two games will be at district opponents South Lakes (Oct. 30) and McLean (Nov. 6).
<b>THE WIN OVER JEFFERSON</b> last Friday night came in sloppy, rainy field conditions. The Saxons dominated the winless Colonials from the start, scoring 14 points in both the first two quarters to surge out to a 28-0 halftime lead. Langley junior quarterback Braden Anderson (7-of-14, 176 yards) tossed three touchdown passes in the win, all in the first half. The scoring strikes went to senior running back Abe Li (24-yard scoring catch), senior fullback Austin Pritchett (30 yard catch) and senior Ben Johnson (30 yard catch).
Pritchett and Harvey (team-high 77 yards rushing) both ran for a pair of touchdown runs. Harvey, a sophomore who missed two games in recent weeks with an injury, scored his touchdowns on runs from 38 and 26 yards out.
"It was pretty sloppy with the weather," said Howerton, of the win. "We still have a tough road with Stone Bridge [this week] and much better South Lakes [6-1] and McLean [5-2] teams."
The coach said a key to his team's offensive success against Jefferson was the short passing game. Most of Anderson's seven completions were short passes that ended up picking up good yardage.
"We were able to throw and control the ball," said Howerton. "We had some huge catches. Braden Anderson played very well. He's gotten better each week."
For the season, the 6-foot-3 inch junior signal caller has completed 66-of-142 passes for 1,020 yards with seven touchdown passes and seven interceptions. He has an outside shot at surpassing former Saxon quarterback Blake Jones for the school record of passing yardage in a season. Jones threw for 1,594 yards during the 1989 season.
Howerton said Anderson has been particularly efficient in recent weeks in the passing game.
"This kid's very good," said Howerton. "I think he has big potential down the road. He's tall, smart, throws a good ball and has big hands so he can get a grip on the ball. This is a kid who has all the tools. And he's strong in the classroom. He's a potential [college] scholarship player."
Howerton credited his offensive line with playing solid across the board. Running backs Yi (232 rushing yards on the season), Harvey (225, 4 TDs) and junior Bryan Hofgard (185 yards) have had good seasons rushing the football. Harvey suffered a sprained ankle early in the Fairfax game and missed most of the next two games (Herndon and Marshall). But he looked to be close to top form against Jefferson.
Howerton, with his team's win over Jefferson, surpassed Bill Renner for the most coaching wins in Langley football history with 32. Renner won 31 games during his time at the helm of the Saxons from 1994 through 1998.
"It's a good little piece of history and gives our staff something to hold its hat on," said Howerton, who has been head coach at Langley since 2003.