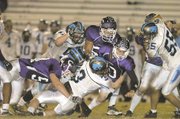 Perhaps the only thing missing from this year's rare Monday night Sully Bowl game was a recording of Hank Williams Jr.'s iconic Monday Night Football theme before the introduction of the opposing teams.
After rain cancelled the annual matchup of the two rival high schools on Friday, Oct. 16, the Chantilly High School Chargers (4-3) and Centreville High School Wildcats (2-4) delivered their own Monday night football thrills on Oct. 19 for loyal supporters who braved the chilly weather.
Although the crowd was not as large as it usually is due to the rescheduled game date, the on-field rivalry remained fierce between the two teams.
Chantilly defeated Centreville 35-25, but not without the Wildcats keeping within striking distance for much of the game with an effective passing attack.
At the half, Chantilly led the Wildcats 21-17, but in the second half the Chargers' running attack drained the clock and the defense made key stops.
Some argue that the area's biggest rivalry is no longer between Chantilly and Centreville, but the intensity of both teams' sidelines during the game suggested otherwise.
Centreville's senior quarterback Cam Walter, who threw for over 200 yards and ran for two touchdowns, said that the rivalry has not been replaced by the emergence of Westfield High School.
"The biggest rivalry, way before Westfield came around, was Chantilly and Centreville," Walter said. "Chantilly's a great program and we've always been a pretty solid program. We just clashed on the field tonight and it was great."
Chantilly's Kristofer Martin, who returned a kick 90 yards for a touchdown and caught one touchdown pass, agreed with Walters.
"Our close friends go to Centreville," Martin said. "We get split up in middle school and those personal ties make it fun. When our brothers and sisters played at Chantilly, it was the big rivalry then. All those ties come back and explode on the field."
Further adding to the rivalry's lore is that Chantilly only recently recaptured its Sully Bowl glory.
"We lost about 13 straight Sully Bowls and then we won it last year," Martin said. "We wanted to start our own streak. Now we're 2-0."
While some might have predicted an easy victory for Chantilly, Chantilly head coach Mike Lalli said that he was careful not to overlook the talented Centreville team.
"People say Centreville is rebuilding, but they have a lot of talent over there," Lalli said. "They're a tough team to play."
Lalli's players were not fooled by the Wildcats record either.
"We knew that Centreville would play better than they have in the past," Martin said. "[Chantilly and Centreville] is an old-school rivalry. Some people think that it's between us and Westfield, but we take the Sully Bowl seriously."
The rescheduled game date also added an extra element of difficulty Lalli said.
"It's tough to play on Monday night because everyone is used to playing on Friday," Lalli said. "But I don't think it affected any of us. It was probably beneficial to both teams that we didn't play in the slop on Friday."
After the loss, Centreville head coach Gerry Pannoni said the Wildcats beat themselves in the match up.
"We didn't make the stops," Pannoni said. "All we had to do was make some stops and we could have won. We went back to our basic defensive scheme tonight. Obviously that didn't work. We have to look at the film and see what we can do to fix it."
The Chargers next opponent is Westfield High School on Oct. 23 at Westfield.
Centreville meets Concorde District opponent Oakton High School on Oct. 23, but faces Westfield on Oct. 30.