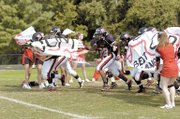 Joe Sheaffer believes his Herndon High football team is capable of earning its second consecutive Div. 6 Northern Region playoff appearance next month. But if the Hornets, who were 4-2 following a 35-30 Concorde District win at Centreville on Oct. 9, are to do so, they must tighten their defense and cut down on their offensive turnovers.
"It's still going to be tough if we don't make better strides on defense," said Sheaffer, of qualifying for the playoffs. "We have to be more consistent and stop allowing the big plays. And [on offense] our turnovers have hurt us. We're stopping ourselves."
In the win over Centreville, Herndon allowed three touching pass plays of 38 yards or more. On offense, Herndon, which has averaged close to three turnovers per game this season, cut that number to just one against the Wildcats.
Herndon quarterback Zack Ozycz (7-of-13, 117 yards) led the offense with two touchdown passes – a 10-yard scoring toss to junior tightend Matt Fehr, and a 30-yard strike to senior running back Randoll Anane. He also scored on a one-yard quarterback sneak run. Other rushing scores for the Hornets came from junior fullback Ronnie Cooke, who ran the ball into the end zone from 27 yards out, and senior back Devon Thompson (two yard run).
Herndon, which led 28-14 at halftime, had good success running the football with Austin Moore (89 yards rushing) and QB Ozycz (69) having big games. Thompson (56 yards rushing) and Cooke (34) also contributed to the ground attack.
The running game was particularly effective to the outside, which helped open up the inside rushing attack as well as the aerial game.
"Zach was throwing the ball real well," said Sheaffer.
While the coach was disappointed his team's defense struggled against the Wildcats, he said his players are working hard and trying to improve in that area.
"The effort was there, and that's really where it starts," he said. "We had issues with the big play, but our run defense was better."
Herndon was scheduled to host Oakton in a district meeting on Monday night of this week. The game was originally scheduled for last Friday night, but area rains forced the postponement.
This upcoming Friday night, Herndon will play a road game at non-region opponent Loudoun Valley.
<b>HERNDON</b>, with the win over Centreville, snapped a two-game losing streak. The Hornets had opened the season with three straight wins over Jefferson, McLean and cross-town rival South Lakes. But then the Hornets stumbled with consecutive home losses to Robinson, 35-14, and Langley, 28-13, to put them at 3-2. Three turnovers hurt Herndon's cause in the non-district game against the Saxons.
Sheaffer said his team, going into the Langley game, experienced a solid practice week. Therefore, the coach was surprised his team played poorly that Friday night against a team that entered the contest with a 0-4 record.
"I've been coaching a long time and we had a great week of practice," said Sheaffer. "I was disappointed and know the kids were down [following the loss]. I don't know why we laid an egg. Of course, Langley played well. But we came back and tried to be positive [preparing for Centreville]."
The large amount of Herndon turnovers on offense has mystified Sheaffer. He said it has not been one area of the offense that has struggled, but rather a problem across the board. The team has diligently worked on improving on its turnovers' problem. The coach said turnovers even hurt his team during its 3-0 start.
"I just never thought we were playing [particularly] well even though we were winning," he said. "We're working on getting better each week and playing better football. [The turnovers] are very frustrating. We work on it and talk about it."