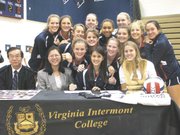 Before W.T. Woodson's match with Marshall High School on Oct. 13, senior Tiffany Vu fought butterflies in her stomach as she prepared to sign a letter of intent for Virginia Intermont College in Bristol, Va.
"It's just crazy, going to play in college," Vu said. "I feel like this is the final countdown [to college]. I'm kind of nervous."
At a signing ceremony during a break in the junior varsity match, Vu signed to play volleyball with the Cobras. On hand were Vu's parents and Virginia Intermont volleyball head coach Lauren Kinser.
"I'm excited that I got to sign in front of my friends and family," she said. "It was really nice because I got to include everyone instead of just driving [to Bristol] and signing there."
While Vu was interested in attending the U.S. Naval Academy in Annapolis, it was Virginia Intermont's small-school charm and volleyball program that won her over.
"The coach is great and the team is fantastic," Vu said. "It's a small campus and that is what I wanted. I also agree with [Kinser's] philosophy on coaching."
The Virginia Intermont volleyball team currently is 3-20 this season and plays in the Appalachian Athletic Conference.
Kinser, a first-year coach at Virginia Intermont, said she had her eye on Vu before she took over as coach of the Cobras.
"I met her last summer while I was recruiting at a few tournaments," Kinser said. "I really liked her from the [beginning]. She has energy and fire on the court. I'm looking forward to her bringing that spark to the team."
For Woodson, Vu has been an on-the-court leader and her selfless play has driven Woodson to victory.
Kinser is eager for Vu to bring that same style of play to the Cobras next season.
"She's determined to do her best and be the best," Kinser said. "I can't wait to have her [on the team]."
But volleyball skills aren't the only attributes Kinser saw in Vu.
"I wanted to find girls who love the game and have passion for it," she said. "She has that. I'm looking forward to adding [her] passion to the team."
While signing ceremonies are common for football and baseball players, W.T Woodson head coach Len Palaschak said it's not often that one is organized for a member of the volleyball team.
"This is just a great night for [Vu] and her parents," Palaschak said. "It's really special. Most of our girls go as walk-ons [when at college], so this is something we're very proud to be a part of."
Before the ceremony, Palaschak talked about the first time he saw Vu play as a freshman.
"[Vu] is one of those players who is so quick on defense," he said. "If the ball gets loose, she'll get it. She's just fast on the floor. We knew we had something special in her from the start."
The Cavaliers, currently 7-4, are heading into their final month of games. Although Vu's high school career is coming to an end, she said the signing ceremony would be the season's shining memory.
"I know that my senior year won't end on a bad note," Vu said. "This is my last chance to play in high school. I just want to go all out."
But Vu also is anxious to don the black and gold of Virginia Intermont and bring her game to Bristol.
"I'm excited about everything at college," Vu said. "I can't wait to go [play] in college. It seems like everyone is [on the team] because they love volleyball. It's just very exciting."