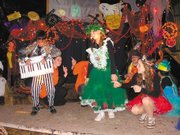 Bored of the same-old Halloweens? Looking for something more to do than dress up in the same old costume, trick-or-treating in the same old neighborhoods and getting the same old candy?
If so, then do not fret, as Fairfax County residents have plethora of fun things to do for the whole family this Halloween season. From new takes on traditional activities to interactive, engaging events, enough is going on this October to make any ghoul-loving, thrill seeker squeal with delight — and maybe even fright.
A popular destination for Halloween fun this year will again be the local parks. Burke Lake Park is hosting two activities that cater to all ages and all members of the family both the weekend before Halloween and on the day itself. On Saturday, Oct. 31, the park is hosting the third annual Burke Lake Costume Run, where costumed participants will run or walk around the lake and then take part in a costume parade. After the event, participants can enjoy refreshments, browse arts and crafts and dance to spooky music. In addition, the park will also be hosting "Ghost Train Rides" Saturday Oct. 24, Sunday Oct. 25 and on Halloween. Rides will be given on the park's train, as a narrator tells scary stories. The train rides, always a big hit, have been given every Halloween season for more than 20 years.
"Our events may have changed a little bit, but they're basically the same," said Park Manager Charlie Reagle. "They are family events. It's spooky, but it's not blood and guts scary."
Lake Accotink Park in Burke is also joining the Halloween fun, hosting a day of events Saturday, Oct. 24 that not only will appeal to the entire family, but to their furry friends as well. The park will conduct a Halloween Dog Costume Contest from 2-4 p.m., where costumed dogs will be judged in 10 categories, ranging from scariest costume to most creative. From 6-9 p.m., the park will offer Goblin Golf and Bonfire. Park guests can play mini golf with glow-in-the-dark golf balls in the park's course, which will be decorated. In addition, guests can listen to ghost stories around a lakeside bonfire and can ride the carousel, which will play spooky music.
"It's a light-hearted, family thing," said Park Manager Matthew Kaiser. "There's nothing super-scary, and no one jumps out or anything like that."
The Hidden Pond Nature Center in Springfield is another park getting in on the Halloween festivities, hosting the Haunted Pond at Hidden Pond Friday, Oct. 30. Assistant Park Manager Mike McCaffrey said that the event is essentially a nature education program with a Halloween theme. The two-hour event will start with a discussion of animals that conjure fear in children and sounds that those animals make that may be frightening. The event concludes with a walk through the Nature Center's surrounding woods.
"It's really a natural history type of program," McCaffrey said. "And who know, there may be some ghostly happenings, but I can't give too much away."
WHILE AREA parks may be the epicenters of Halloween activities, local malls are also making sure they get in on the fun. In Fairfax, Fair Oaks Mall is hosting its 23rd annual Mall-O-Ween on Halloween from 5:30-7:30 p.m., which mall General Manager Chris Poleto estimates will draw more than 10,000 people. Poleto said that the mall will be decorated, with many of the stores giving out candy to costumed children. In addition, popular costumed characters will be at the mall to take pictures and sign autographs.
"It's just a fun event for the family," Poleto said. "It's a safe climate for our trick-or-treaters, and since its all indoors, the weather cannot affect it."
Springfield Plaza will be hosting a free Halloween parade Saturday, Oct. 24 at 10:30 a.m.
Any costumed children can participate in the parade, and free treat bags will be handed out. No fee will be collected for this event.
For those seeking a different Halloween experience, the National Rifle Association's Firearms Museum in Fairfax is hosting "Tricks and Treats," a free event for children Friday, Oct. 30, 4-7 p.m. and Saturday, Oct. 31, 9:30 a.m.-7 p.m. The museum will be decorated, and treat bags will be hidden throughout for children to find. In addition, participants will also be given a history of firearms.
"We open up the museum, decorate it and hide candy containers," said Museum Curator Doug Wicklund. "We try to keep it PG-13."
More like this story