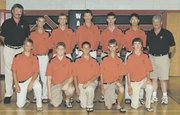 After the first round of the Northern Region golf tournament on Oct. 6, the James Madison Warhawks found themselves in an unexpected position — in the lead. The team was nine strokes clear of favored Westfield.
"The first day gave us some confidence," said senior Joe Moloney. "We knew that whatever happened, we would likely qualify for the state tournament."
Strong winds, with gusts up to 40 miles per hour, disrupted play during the second round at Fairfax National Golf Club. By the end of the day, Madison's lead had dwindled to a four-shot deficit. Westfield rallied for the win, but Madison realized Moloney's prophecy. The team's runner-up finish sent them to states.
"We have a young team, and the players didn't handle the wind as well as Westfield," said Madison coach Ted Savia afterward. "But I'm proud of them for hanging in there.
Savia said that he emphasized team play throughout the season. During the region tournament, he assigned those team members not in the top six to walk the course and offer encouragement.
"They kept score, but were careful to follow the rules about helping their teammates," said Savia. "It helps team spirit and gives the less experienced players a chance to participate in some way."
Junior Alex Hubbard paced the team with a 71-83 – 154, followed by junior Chris Wendel (75-80 – 155), Moloney (77-80 – 157), and junior Tommy Curley (77-81 – 158). Junior Ryan Corrigan and sophomore Robbie Hecht also played, but their scores didn't count toward the team total.
The Virginia AAA high school tournament is scheduled for Oct. 19-20 at Waterfront Country Club near Roanoke.