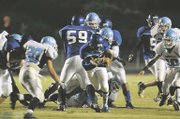 Jim Patrick's McLean High football team is coming off its worst loss of the season. But the road is not going to get easier this Friday night when the Highlanders host defending Div. 5 Northern Region champion Stone Bridge.
Stone Bridge (7-1), which lost for the first time this season in a game against Madison two weeks ago, squeezed past home team Langley, 17-14, last Friday night. The Bulldogs, while not as dominant as in recent seasons, are still one of the top teams in the region.
McLean (5-3), which has experienced an outstanding season following last year's 0-10 record, saw a two game win streak come to an end with a 55-17 road loss to Liberty District opponent Fairfax last Friday night.
It marked the first time this season in which the Highlanders have been at the short end of a lopsided score. McLean's previous worse losses had come in seven point games to Herndon and South Lakes, both of those road defeats coming by 28-21 scores.
McLean is 3-0 at home this season and will look to make it 4-0 against coach Mickey Thompson's Bulldogs on Friday. Following the game against Stone Bridge, McLean will conclude the regular season against cross-town rival Langley on Nov. 6 at home. The Highlanders must win at least one of their final two games to finish over .500. McLean will almost certainly qualify for the upcoming eight-team Div. 5 playoffs in two weeks.
McLean, which fell behind Fairfax 13-0 after one quarter and 20-3 at halftime, scored both of its touchdowns on runs by Riley Beiro (6 and 5 yards out), both scores coming in the second half. The Highlanders' first points of the game came on an Andrew Hunt field goal from 36 yards out in the second quarter.
<b>MEANWHILE, LANGLEY</b> played Stone Bridge close in a 17-14 Liberty District loss in Great Falls last Friday night. Coach John Howerton's Saxons, who began this season 0-4, were looking to get back to .500 going into the game against the Bulldogs.
Langley (3-5), which has slim hopes of qualifying for the Div. 6 region playoffs, will conclude the season with district road games at South Lakes this Friday night and at McLean the following Friday. If Langley can defeat both of those opponents, which will not be an easy matter considering both the Seahawks and Highlanders have winning records this fall, the Saxons would finish the season quite respectable at 5-5.
The Saxons, playing in their final home game of the season, jumped out to a 7-0 first quarter lead over Stone Bridge on a 34-yard scoring pass from Braden Anderson to Joey Kiffe. Stone Bridge scored the game's next 10 points to take a 10-7 lead at halftime. The Saxons regained the lead on a 40-yard scoring run by Abe Yi in the third quarter, but the Bulldogs scored a touchdown themselves later in the quarter to go ahead 17-14. Neither team scored in the fourth quarter.
Anderson completed 13 of 29 passes for 239 yards and Yi rushed for 62 yards on 13 carries. The Saxons could not slow down Stone Bridge running back Marcus Harris, one of the region's top backs, who ran for 204 yards and the go-ahead touchdown in the third quarter.
<b>THE MARSHALL HIGH TEAM</b>, under first year coach Bill Lapthorn, earned its first win of the season with a 35-0 homecoming win over district opponent Jefferson on Friday night. The Statesmen had played better in recent weeks going into the game against the Colonials – losing to Langley, 21-7, on Oct. 9 and falling to McLean by a 24-21 score on Oct. 16. Finally, against Jefferson, the Statesmen broke through for their long awaited first win.
Marshall will play its final home game this Friday night against Fairfax before wrapping up the season with a game in Vienna at cross-town rival Madison on Nov. 6.