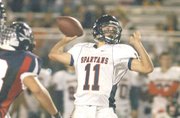 At 5 feet 11 inches and 165 pounds, West Springfield quarterback Matthew Prokop is far from being his team's biggest player.
His performance in the Spartans' 44-31 loss on Friday, Oct. 23 to W.T. Woodson, however, displayed how large a role he plays for the West Springfield football team.
"I'm not the tallest guy out there, but I prepare hard each week and try to get the ball to our best guys," Prokop said.
With his jersey muddied and drenched from the intermittent rain, the senior led the Spartans offense with 200 passing yards and 130 rushing yards.
His rushing accounted for nearly all of the Spartans' 144 rushing yards.
But turnovers, missed tackles and failed drives stymied the Spartans against their Patriot District rival.
"The kids played hard and Woodson made less mistakes than us," West Springfield head coach J.T. Biddison said.
Despite the disappointing outcome, Biddison was proud of his quarterback's performance.
"He's definitely a great leader for the team and the offense," Biddison said.
While Prokop's strong performances have helped the Spartans' in their victories, the senior doesn't try to take credit for his team's success.
"It's a football game and that's how it goes," Prokop said. "You don't worry about stats. You do what you have to do to win."
For Prokop, succeeding West Springfield standout quarterback Bryn Renner, who is now playing at the University of North Carolina in Chapel Hill, might come with a degree of pressure. But Biddison said Prokop isn't playing in anyone's shadow.
"I don't think he's filling in for anybody," Biddison said. "He's a very good high school quarterback. He commands the offense and he's fearless. He just does a great job."
With the team sitting at 4-4, Prokop's leadership will be a major part in the Spartans' run to secure a playoff berth.
"For me, the season has gone well, but as a team we're only 4-4," Prokop said. "We've got two games left and hopefully we can get in the playoffs."
Prokop is confident that his offense can help propel the Spartans into the playoffs.
"We never stop fighting," Prokop said. "We work hard. We have good plays and we have bad plays. "We've got to eliminate turnovers and stop shooting ourselves in the foot."
West Springfield continues their season on Oct. 30 against Robert E. Lee High School (5-3). The Spartans wrap up the regular season against Lake Braddock Secondary School (7-2) on Nov. 6.