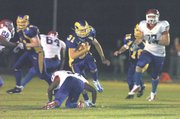 If the Robinson Secondary School football team could have one "do-over," every team member would likely ask for another shot at Westfield High School.
After posting a 6-0 record, the Robinson football team suffered an overtime defeat at the hands of a then 2-4 Westfield team on Oct. 19.
"Westfield was a wake-up call," said junior running back Jared Velasquez. "A season is fragile. Westfield came out with fire, and I don't want to be on the other side of that again. We lacked emotion in that game."
One week later, when the Rams took the field against Madison High School (4-4) on Oct. 23, the team was ready.
"After the Westfield game [the team] felt so bad," said Velasquez. "The way you feel after losing a game isn't a good feeling. That pushed us all week before Madison."
The extra motivation from losing seemed to help as the Rams defeated the Warhawks 21-7.
"Maybe we needed the loss to Westfield. After that loss, the intensity in practice got upped and we got focused on our next games," senior wide receiver Matt Zanellato said.
Now the players are hoping they can channel the vibes of the last Robinson team to capture a State Football Championship.
"Everyone relates our season and the loss to the 2001 Robinson team," Zanellato said. "That team lost its Homecoming and then went 13-1. Maybe we can do what that team did and use the loss to help us win [the State Championship] this year."
Although the players are still bothered by the Westfield loss, head coach Mark Bendorf said his team doesn't need any extra lectures to stay focused.
"The expectations and tradition keep our team focused," he said. "It's never really addressed in practice. The players know what they need to do."
The Rams' tough Concorde District schedule also is a factor.
"We can't look past anyone," Bendorf said. "With the exception of one game against Marshall, it's been a battle. The players understand that each Friday night is going to be a battle."
Motivation only goes so far. Talented players like Zanellato and Velasquez also are key to the winning season.
Through eight games, Velasquez has racked up 916 rushing yards on 125 carries, 11 rushing touchdowns and one receiving touchdown.
Zanelatto's numbers aren't as high as Velasquez's, but with only 28 catches, the receiver has 467 yards and six receiving touchdowns.
With a win to build from, the Rams face another stiff challenge in Oakton High School (4-4) and another sleeper team in Centreville High School (3-5).
"Oakton has always smacked us around," Zanellato said. "During my freshman year, Oakton beat us up during our own Homecoming. Last year, we felt like if we had beaten Oakton, we might have made the playoffs."
Zanellato cautioned that his teammates can't look past their final game of the season with Centreville.
The Wildcats, who suffered through a 1-10 season least year, upset the Cougars 21-7 and have challenged Concorde District opponents Chantilly and Herndon.
"Centreville is always a very good team," Zanellato said. "They handled Oakton pretty good this season and we have had trouble with Oakton, so we'll see what happens."
The Rams face Oakton at home on Friday, Oct. 30 at 7:30 p.m.