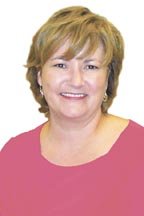 Julaine Ricard has been selected as director of the preschool at St. George's United Methodist. She succeeds Nicole Hanton who resigned to pursue advanced educational opportunities. St. George's UMC, located at 4910 Ox Road in Fairfax, near the crossroads of Route 123 and Braddock Road, has sponsored a preschool program for the past 11 years. Ricard is the third director of the program geared to preschool children between 5 and 2 1/2 years old.
After graduating with a bachelor of education from St. Cloud State University in Minnesota, Ricard taught elementary school for two years in a small Eskimo village in Alaska. She also taught for six years in Barrett Elementary School in Arlington, as well as serving two years on the teaching staff of the preschool she will now head.
Ricard is a member of St. George's UMC. She has served as director of the church's vacation Bible school for three years and coordinator of the children's Happy Club for four years. She also works with the Girl Scout programs in which her two daughters are active. She and her husband, Chris Ricard, have two daughters who attend Oak View Elementary School.
More like this story