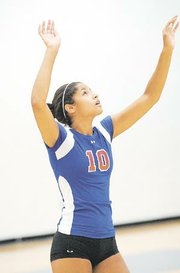 T.C. Williams volleyball coach Rhea Butler approved of the Titans' effort Monday against Hayfield. Now she wants the team to work on playing well consistently and closing out games.
Hayfield swept T.C. Williams, but Butler's tone when describing her team's performance was in contrast with how the coach sounded after the Titans were defeated by Yorktown, 3-0 (25-19, 25-20, 25-19), on Sept. 10.
"We did not play well," Butler said after losing to Yorktown. "We had enthusiasm but we made little mistakes. That's the only reason they won."
Despite losing to Hayfield, which improved to 6-1 with the victory, Butler said the Titans cut down on their mistakes.
"Our offense was phenomenal," Butler said Tuesday of the Titans' performance against Hayfield. "I feel like we did really well. Our blocking was so much better with Kate Whitmire and Miranda Branch. They really stepped up with blocking and becoming our main hitters. … The biggest thing we're going to work on is just playing well and being consistent."
Butler also said Amberle Farthing and Abby Wilson have been passing well.
Branch led the Titans with eight kills against Yorktown. Sydney Trout and Whitmire each had six kills and Natalie Brown finished with five kills.
T.C. Williams entered Wednesday's match against Mount Vernon with a 1-3 record. Results were not available as of press time. The Titans travel to face Oakton on Tuesday.
<b>Saints Field Hockey Winning Streak Snapped</b>
The two-time defending state champion St. Stephen's/St. Agnes field hockey team on Saturday suffered its first loss since 2006.
The Saints, who opened the season Sept. 9 with a 4-0 victory over Elizabeth Seton, lost 2-1 in overtime to Bethesda-Chevy Chase during the Nyborg tournament. The Saints lost to Roland Park, also 2-1 in overtime, later in the day.
St. Stephen's/St. Agnes coach Marsha Way said the Saints had players miss time due to injury, an ACT test and an official visit to a college. While the program isn't used to losing, Way said it is more important to be playing well at the end of the season.
"I think our kids learned a lot," Way said. "Now it's evident there are things we really need to work on."
The Saints bounced back Tuesday with a 3-0 victory over McLean. Taelor Salmon, Brittni Register and Alexandra Burnley scored goals for St. Stephen's/St. Agnes.
The Saints (2-2) host Bullis at 4:15 p.m. today.
<b>Smythe Highlights TC X-Country Effort</b>
Sophomore Shannon Smythe was the top T.C. Williams finisher at Saturday's Monroe Parker Invitational, placing eighth among girls individuals.
The Titan girls placed seventh out of 22 teams.
Smythe recorded a time of 18 minutes, 51.44 seconds. Lake Braddock senior Liana Epstein finished first with a time of 17:53.11 and was the only female harrier to post a time faster than 18 minutes.
Adugna Desalegn placed 30th for T.C. Williams with a time of 19:42.34. Hanna Clark finished 37th (20:00.59), Katie Newsham 41st (20:09.39) and Lisa Toledo 73rd (20:44.71).
"We ran real well," T.C. Williams coach Michael Hughes said. "This is a great performance for us. The girls really put it together. We're happy. It's a young team and they're really, really talented."
The T.C. Williams boys finished 15th out of 26 teams. Leading the way for the Titans was Darren Foreman, who placed 28th with a time of 16:29. Patrick Murphy finished 50th (16:52), Nicholas Ahumada 84th (17:25), Ben Bilodeau 112th (17:46) and Jacob Whitacre 154th (18:23).
<b>Bishop Ireton Football Moves to 2-0</b>
The Bishop Ireton football team defeated Riverdale Baptist 31-7 on Saturday, improving its record to 2-0.
Bishop Ireton's Michael Larrabee completed 7 of 16 passes for 141 yards and two touchdowns, and was intercepted once. He also rushed 11 times for 88 yards and two touchdowns.
Bishop Ireton hosts Woodberry Forest on Saturday.
<b>SSSA Football Opens with Win</b>
The St. Stephen's/St. Agnes football team defeated St. Christopher's 33-0 on Saturday in its season opener.
The Saints host St. Anne's-Belfield on Thursday.