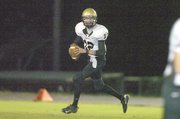 Westfield High School senior quarterback Danny Fenyak can't beat his friend and wide receiver Aaron Scoville in the Madden NFL Football video game. When it comes to working together on the actual gridiron, however, the two rack up yards as if they are playing as one.
"Were just always throwing the ball around together," Fenyak said. "We hang out a lot, watch football together and I think it helps us on the field."
In Westfield's 10-9 loss against Lake Braddock Secondary School on Sept. 17, the two seniors showed the strong connection they have on the field by spearheading the Bulldogs' offense.
Fenyak amassed 195 passing yards, went 15 for 33 and completed eight passes to Scoville for 118 yards, a season high for both players.
The strong chemistry isn't just the result of two friends spending time together, but also a product of a summer's worth of hard work.
"I've worked out with [Scoville] all summer," Fenyak said. "We hang out on the weekends. In our passing tournaments, I must have thrown 20 touchdowns to him. He's just been my man all summer."
Scoville's right-place-right-time receiving isn't a fluke. The Bulldogs practice plays that play to Scoville's strengths.
"We have timing routes and I just know when [Scoville] is going to get to [the right place]," Fenyak said. "It's what we work on all the time together."
Scoville agreed that the time spent working in the offseason had paid off.
"It helps that we're hanging out after school," Scoville said. "We can tell what each other are thinking out there. It helps with our timing."
ALTHOUGH THE BULLDOGS were able to rely on Fenyak and Scoville to produce, Westfield's offense was stymied by Lake Braddock's defense.
"We just didn't get the ball in the end zone," Head Coach Tom Verbanic said. "We must have had 15 first downs, but we couldn't get it in."
The Bulldogs lone touchdown came from an interception return by junior defensive back Harry Van Trees, but the Bulldogs were unsuccessful in developing a running game to complement the passing game.
"We put together some good drives," Fenyak said. "We just couldn't finish them. We were throwing the ball well, but we couldn't establish the running game."
The Lake Braddock game was expected to be a shootout considering that the Bruins had scored 80 points in two games, but the Bulldogs were able to hold the Bruins to only one rushing touchdown.
"I was very surprised that the score wasn't higher," Fenyak said. "Woodson put 43 points on them the week before."
Despite the struggles on offense, Verbanic said he was proud of his defense's ability to stop the high-scoring Bruins' offense. The Bulldogs shut down Lake Braddock quarterback Michael Nebrich and intercepted five passes.
"I thought our defense was tremendous," Verbanic said. "[The defense] played their hearts out and worked as hard as they could work. We're going to go back to work again, but we just did a tremendous job."
Fenyak said that he felt the offense needed to a do a better job of supporting the defense.
"We just need to score," he said. "Our defense was playing so well and held such a great offense to only three [of the team's 10 points]. We really needed to help them out down the road."
ALTHOUGH WESTFIELD'S two losses have come from small margins, Fenyak said he is confident the team is headed in the right direction.
"We definitely know how to play in close games," Fenyak said. "We can hang with the best, but we need to start finishing our offensive drives."
Scoville agreed with his friend.
"We just need to get back to work," Scoville said. "We could be 3-0 as easily as we are 1-2."