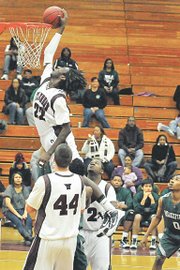 Mount Vernon boys basketball coach Alfonso Smith stood outside the Majors' locker room Friday night and said he was less than enthused about his team's effort against Wakefield.
"I'd give our performance a C," he said. "I'd definitely give Wakefield an A. They played well, they played hard."
While Smith issued Wakefield a superior mark, Mount Vernon did enough to stay in the game. The coach wanted a team effort with multiple Majors embracing their roles. Instead, he had to "settle" for a Skylar Jones scoring solo and a 76-70 victory at Mount Vernon High School.
Jones, who signed with Division I Niagara prior to the season, finished with 34 points on 14-of-23 shooting. Jones said his career high is 36. He scored 13 of his team's final 14 points of the first half. He drove to the basket. He knocked down free throws. He buried 3-pointers.
Jones accounted for the Majors' final 10 points of the third quarter, twice beating the Warriors with a baseline move. He kept Mount Vernon close while a feisty Wakefield team built a lead as big as seven in the second half.
Smith complimented the performance of his 6-foot-4 star, but the coach wanted more players to get involved. Jesse Konadu finished with 18 points for the Majors and Robert Smith, who played through an injury, finished with 11 points. Dylan Bischoff grabbed 10 rebounds.
"I was disappointed with our effort tonight," Smith said. "I thought we leaned a little bit too much on Skylar. With some of the goals that we have as a team, it's going to make it very difficult for us to reach those goals if we're one and two dimensional. We have to have different guys buy into their roles a little bit more and then get out there and execute and perform those roles. One through 13, it wasn't at the level where we need for it to be, but we have confidence that it will get there."
The win improved Mount Vernon to 14-3, 9-1 in the National District. The Majors are one game behind district newcomer Hayfield for first place.
"We need to do the things that we do well better," Smith said. "Do we totally stink it up from quarter one through four? No, we don't. We do some positive things, but we're looking for consistency. Consistency on the boards, consistency with moving our feet on defense, consistency with communication — all of which are not the kind of things that our guys are going to see on any SportsCenter highlights. Those are the things that we have to become much better at."
While Smith awaits team consistency, Jones routinely bailed the Majors out of trouble. After a five point first quarter, No. 22 dropped 15 in the second period. Wakefield built a 35-28 lead before Jones closed the first half by outscoring the Warriors 9-2 during the final 1 minute, 28 seconds, tying the game at 37. Jones buried a pair of corner 3-pointers during the final 38 seconds.
The senior scored 10 points in the third quarter. After a Konadu bucket cut Wakefield's lead to 46-41 midway through the quarter, Jones outscored the Warriors 10-7 during the final 4:03. Each of Jones' five consecutive buckets to close the period came in the paint, highlighted by a two-handed dunk after Jones went baseline.
Jones scored four points in the fourth quarter, his final field goal putting Mount Vernon ahead 59-57 with 5:22 to play.
"I was trying to get to 40 but [Robert Smith] wasn't trying to pass me the ball in the fourth — but that's all right," Jones said jokingly with Smith 10 feet away. "… I just felt like they were playing off me and I just went to work and did what I do best."
Mount Vernon took the lead for good when Smith scored in transition to give the Majors a 65-64 lead with 3:18 remaining. Kondau scored six of the Majors' final 11 points.
"We have a lot of things we need to work on," Konadu said. "We don't feel like a lot of effort is coming from the kids who aren't playing [often. They] need to step up because they don't know when they're going to be called on."
Mount Vernon's Sean Stewart scored six points against Wakefield and Bischoff added five. Smith dished nine assists and recorded four steals.
The Majors travel to face Stuart at 7:45 p.m. Friday and hosts first-place Hayfield at 7:45 p.m. Monday.
"It's great having a Skylar Jones on the team that you can lean on when you need to," coach Smith said. "That's part of the investment that you made in him over the course of a high school career — he's been playing varsity since his freshman year. You expect him to do that as needed — but I emphasize the as needed. We shouldn't need that on a regular basis. We've got some other guys that can get it done and really make us … almost impossible to defend. But if we don't have everybody on one page that makes it a lot more difficult than it should be."