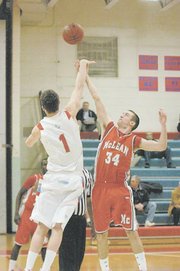 Bobby Forst, the Marshall High boys' basketball coach, had a challenge for members of his team's backcourt prior to the Statesmens' Liberty District home game versus McLean last Friday night, Jan. 29. Simply put, he wanted his key perimeter players to step up their scoring in order to take some of the pressure off of talented big men Will Simonton and Daniel McClain, the teams' inside senior duo that had been carrying the bulk of Marshall's offense of late.
"We hadn't gotten a ton of production from our perimeter players," said Forst.
But following Forst's strong, pre-game `pep talk,' Marshall's guards stepped up in big-time fashion against the Highlanders. Led by 21 points from senior shooting guard Stanley Watts, and 19 points from junior off-guard Shelton Hardy, the Statesmen rolled to a 55-40 victory.
The win improved Marshall to 10-7 overall and an impressive 8-2 in district play. It's a far improvement from Marshall's six-win season of a year ago. McLean, meanwhile, slipped to 7-11 and 3-7.
Marshall's torrid outside scoring ability was the key to the win. With McLean's defense intentionally dropping back in order to make things more difficult inside the paint for Simonton - Marshall's talented, 6-foot-9 inch center and catalyst player - perimeter players Watts and Hardy had more open looks from beyond the three-point arc. The result was both players converting five long range treys on the night. In all, Marshall connected on 10 three-point shots to McLean's two.
"It's good to know as a coach you can win in different ways," said Forst. "Stanley [Watts] hadn't been shooting the ball real good recently. But he's a [true] scorer."
Simonton, who finished the game with seven points, eight rebounds and a dominating nine blocks, was thrilled to see the big backcourt contributions.
"They sure as heck were lighting it up," he said, of Watts and Hardy's play.
Kevin Roller, McLean's head coach, went into the contest focused defensively on slowing down both Simonton and fellow inside player McClain, a 6-4 forward. The Highlanders, in fact, held the Statesmen big men in check fairly well as the twosome combined for just 10 points. But the tradeoff was that Marshall's guards got decent looks and made their shots.
"We wanted to make sure their big guy [Simonton] didn't beat us and we did a good job on him," said Roller. "But they hit their three's, while we hit two's."
<b>ONE OF THE GAME'S</b> biggest baskets came when Watts, from the left wing, nailed a deep three-pointer at the buzzer to end the third quarter, extending the home team's lead from 34-31 to 37-31. From that moment on, Marshall controlled the contest, outscoring McLean 18-9 in the final quarter to gain the win. Watts scored 12 of his points in that final quarter.
"Stanley made some big plays in the fourth quarter," said Roller.
McLean, which received 15 points from senior forward Phil Bouchard and 14 from sophomore guard Gordon Rogo, trailed just 21-20 at halftime. But seven three-pointers allowed in the second half made it difficult for the Highlanders to stay close to Marshall.
For the season, Marshall has hurt teams with a balanced scoring attack in which Simonton and Watts have both averaged 15 points a game with teammate McClain right behind at 14.
"It's tough to defend a team with three players averaging [around] 15 points per game," said Roller. "They have strong play in the post, outside [the paint] and mid-range."
Marshall's success this season has been in large part to its inside presence. Simonton has been a key scoring contributor and is one of the top shot blockers in the state. Over the past five games he has averaged double figures in rebounding.
"He's really carried us [of late]," said Forst. "He's just asserted himself on the defensive end. The goal we set for him this year was to kind of dominate. He has the ability to block shots. I told him that really sets the tone for us."
Marshall is not one of the teams generally talked about when the discussion of Northern Region contenders is brought up. But the Statesmen are now in a battle for the district crown with such teams as two-time defending district champion Langley and Stone Bridge and could be one of the surprise teams at the 16-team region tournament later this season.
"We know we're going to have to keep proving ourselves," said Forst, whose team has won four straight since a 48-42 district road loss to Jefferson on Jan. 15. "People aren't going to hand us stuff. But we're starting to expect to win."
Simonton said Marshall, which has a seasoned roster with eight seniors, believed from the start that it could have a breakout season.
"We're expecting to win and going out there with confidence," said Simonton, who hopes to be playing collegiate basketball next school year. "We have good players. We're kind of underrated by a lot of people."
Marshall was scheduled to play at Langley earlier this week on Tuesday, Feb. 2. The Saxons (15-3) lost their first district game last Friday night at Stone Bridge, 64-62. The Statesmen are scheduled to play at Madison this Friday night.
McLean was scheduled to play district home games this week against Madison on Tuesday and South Lakes on Friday.