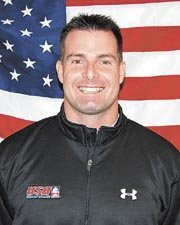 For United States Olympian Mike Kohn, one newspaper announcement back in 1990 has proven to play a dramatic impact on his life.
Kohn, a 1990 Chantilly High graduate, learned of a U.S. bobsledding team tryout through his then-high school football coach Mark Bendorf, who had learned through a newspaper announcement of the tryout taking place at the University of Maryland in College Park.
Bendorf, now the Robinson High head football coach, immediately thought of Kohn, an athletic, driven individual who had played wide receiver position over two years as a member of the Chargers' varsity.
"I talked to Mike and read to him [from the tryout notice] what they were looking for and what tests would be done and said, `This is right down your alley,' recalled Bendorf. "He jumped right into it full speed, went to the tryout, made the cut and went to [the U.S. bobsledding team headquarters in] Lake Placid [N.Y.]."
Thus began Kohn's 20-year odyssey as a U.S. bobsledder – a long and winding course of which the highlights include earning a bronze medal as part of a four-member U.S. sled at the 2002 Olympic Games in Salt Lake City and earning a spot on this year's 2010 U.S. Olympics bobsledding team which will be competing at the Vancouver Games over the next couple of weeks.
Kohn, who was a U.S. Team alternate at the 2006 Olympic Games in Torino, Italy, was a late addition to this year's team. He was not originally named to any of the three, four-member sleds set to represent the U.S. in Vancouver. But a training accident to teammate Todd Hays, a driver on one of the U.S. sleds, opened up a door for Kohn, who went on to accumulate enough points during American Circuit competitions to replace the injured Hays and become a driver on the No. 3 U.S. sled.
"The last month has been a whirlwind," said Kohn, a 1997 George Mason University graduate who resides in Fairfax and serves as a Sergeant in the Virginia Army National Guard. "I thought I'd hang it up because I didn't hold hope [of making the Olympics team]. But I did hang in there and I'm glad I did."
Kohn and the entire U.S. bobsledding family were concerned first and foremost about Hays' health following his bobsledding accident, which occurred in Germany. But a phone call from Hays helped put Kohn at ease.
"He wished me luck and asked me what he could do to help me get qualified [for the Olympics team]," said Kohn. "I asked him about his health. He had a pretty serious injury."
<b>KOHN, 37, GREW UP</b> in Columbia, S.C. before moving with his family to Northern Virginia when he was 12. He attended Langston Hughes Middle School in Reston from seventh through ninth grades before going to South Lakes High School. His family moved to Chantilly following his sophomore year and Kohn was enrolled at Chantilly High, where he competed on both the football team as well as the track and field squad.
He loved his overall experience at Chantilly. His best friend there was Doug Ewell, the current head boys' basketball coach at Westfield High. The two would ultimately be in the same graduating class at GMU.
One of Kohn's greatest high school football memories was Chantilly defeating powerful Robinson in the 1996 season opener.
"That might as well have been the Super Bowl for us," said Kohn. "We had been talking about that game all summer. That win for us was one of our biggest ever. I had one or two catches [that night], I think."
Bendorf loved Kohn's dedication to the sport and to his teammates.
"He was a wonderful young man to coach, a hard worker and very unselfish as a team player," said Bendorf. "He had all the tools to be a really good football player or at any other athletic endeavor."
In track, Kohn excelled in the sprint events. He was ninth in the state in the 300 race during the winter indoor track season of his senior year. The Chantilly boys' track and field coach at that time was Greg Sullivan, who currently is an assistant football coach at McLean High.
"The thing I liked most about coach Sullivan was he was equal across the board to everyone," said Kohn, who as a senior was the Chantilly boys' Team MVP of the winter season before earning the Coach's Award that outdoor season . "If you worked hard you would be rewarded for it. If not, you wouldn't be."
Sullivan said Kohn's ability, leadership and outstanding work ethic shined at Chantilly.
"Mike was one heck of a hard worker," he said. "He was a track kid for me and also played football. He definitely was a leader on the track team and the kids looked up to him. When he made up his mind he was going to do something he did it. He worked hard and didn't play around in practice. That was the tone he set for all the sprinters."
Kuhn, following high school, ultimately attended the University of South Carolina where he made the football team as a walk-on. He never played a down during his two seasons with the Gamecocks, but he was thrilled just to be a part of the team.
"It was like the `Rudy' story," said Kohn, chuckling in recalling the famed movie of the Notre Dame football walk-on. "But by the end of my second year I realized I wasn't going to be going to the NFL."
True enough, but Kohn had already gotten involved with another sport he was growing a passion for - bobsledding. He had attended and excelled at the tryout camp at Maryland a couple years earlier and, following that, had gone to Lake Placid and been placed on one of the U.S. Team's four-member sleds.
"I caught on right away," said Kohn, of the sport. "My first ride [in Lake Placid with the team] was pretty rough. It was not what it looks like on TV – it's a pretty violent ride. There are no shock absorbers or comfortable seats. There are no big padded tires to run on."
Bendorf, who had grabbed notice of the tryout announcement which led to Kohn's escapade into the world of bobsledding, said Kohn was the perfect candidate to delve into such a sport.
"He was the only one I approached because I thought he was costumed for that," said Bendorf. "He had the athleticism and was a fast, explosive kid and he had drive. He had that stick-to-it [nature] to him."
<b>BOTH BENDORF</b> and Sullivan helped Kohn prepare for those bobsledding tryouts - which proved somewhat comparable to a track and field decathlon event - at Maryland in 1990.
Kohn had to prove his prowess in numerous events that tested his running, jumping and body strength. According to Sullivan, athletes had to accumulate a point package of 600 or better to qualify to join the team in Lake Placid. Kohn scored 630 points.
The U.S. Team put Kohn, who weighed about 175 pounds at the time of his tryouts, on a regimented strength conditioning and nutrition plan over the next nine months. He put on 40 pounds but his body fat dropped eight percent. He improved his 100-dash running time from 11 flat to a world class 10.4. He was totally dedicated to giving his best as a bobsledder.
Kohn ultimately earned a spot on the 2002 U.S. Olympics Team and, as a member of a four-man sled, earned a bronze medal in Salt Lake City. What Kohn remembers most about those Games was that they came in the aftermath of the Sept. 11, 2001 terrorist attacks on the United States.
"[The Games] were five months removed from Sept. 11," said Kohn. "I thought I'd be activated by the Army to go to Afghanistan, but the Army said I could compete in the Olympics."
Brian Shimer was the driver on the U.S. sled of which Kohn was a part of at those '02 Olympics. The foursome was in fourth place going into their final run on last day of competition. One place away from a medal, the Shimer team came up big in that last race to land a third place finish and the bronze. A German team won the gold, and another U.S. team took the silver.
"The moment [on the medal stand] will live forever," said Kohn, of representing his country during a time when the U.S. was mourning the loss of life as a result of the terrorist attacks of the prior September. "It didn't really matter what color [the medal] was – we had gotten a medal. What made it better was the other U.S. team getting the silver."
It marked the first time in 46 years that the U.S. had medaled in bobsledding.
Kohn said his family joined him at those Salt Lake City Games. While he was focused on his sport and excelling, he said he also was able to take in the Olympic experience as a whole.
"At those games we had fun and we worked hard and it turned out great," he said. "We went to see other sports and events."
Four years later, Kohn served as an alternate on the U.S. team at the 2006 Games in Torino, Italy.
"Being an alternate is better than nothing," said Kohn, who during those Games also served as a tutor to NBC telecasters as they covered the sport. "I helped the TV people understand the sport better, which was great. But it definitely didn't compare to Salt Lake City."
This past month, upon learning he would be competing at the Vancouver Games, Kohn said he had to scramble for Olympics tickets for family and friends. His girl friend Jessica, who is studying opera as a music student at George Mason, will be in attendance.
<b>ONE OF KOHN'S</b> favorite things about bobsledding is the team work that goes into both a four-member and two-member sled.
"You become real close to the four guys you work and train together with," he said.
In four-team sleds, each member lifts a part of the 500-pound sled at the start of a race.
Then, as a unit, the foursome begin running together in order to gain momentum for a fast ride. One by one, each team member, starting with the driver, jumps into his respective seat. By the time each is seated, the enormous sled is whooshing along the icy course path. Ultimately, Olympic caliber bobsledders will reach up and past 90 miles per hour. A fast start – which entails team members running 50-meters in less than five seconds before jumping in - is crucial for a team's success.
"If we get off the start block in first place, that's the best place you can be because you can [overcome later] mistakes," said Kohn.
Kohn has a deep appreciation for the caliber of athletes he has teamed up with over the years on a bobsled.
"Most of our top guys could run in a competitive track and field meet in the U.S.," said Kohn, who was named People Magazine's 50 most eligible bachelors in 2002. "They're as strong as the strongest football players in the NFL. I would put our guys up with anyone when combining power and speed."
Kohn, whose younger brother, Chantilly graduate Nick, is an actor on Broadway, is a wonderful example of a dedicated athlete who has gotten the most of his or her abilities.
Last high school football season, Sullivan invited his former athlete to speak to the McLean High football team, which was coming off a 0-10 season in 2008.
"He asked them, `Who's the best team in your district,'" recalled Sullivan, of the pre-season meeting. "They said, `Stone Bridge,' and he said, `Wrong, McLean is the best team in your district.' He said it was like the German [bobsledders] for the U.S. He said until you have the mindset you're the best team in the district, you're not going to win."
Sullivan said the Highlanders' players, who were part of a McLean team that experienced a winning season and qualified for the postseason last fall, are looking forward to cheering Kohn on at the Olympics. They won't be the only ones. Folks from throughout Northern Virginia will be in front of their TV sets cheering Kohn and his teammates on as they compete in Vancouver.
Kohn is scheduled to compete on Feb. 20 (two-man sled competition) and Feb. 26 (four-man).