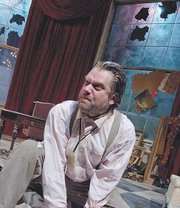 Only a snow storm of historic proportions could keep the holders of tickets to last weekend's performances at the Clark Street Playhouse from having a great time. That is where the Washington Shakespeare Company is presenting David Ball's marvelous reduction of Molière's five-act "The Miser" into a manic single act. It offers more laughs per minute than any other show now playing on local stages.
Of course, as we all know, that historic storm did arrive and the performances didn't happen. But the show runs for the rest of the month, so there's plenty of time to enjoy this delight. If you need motivation to dig out from the frozen stuff, this should be sufficient reward for some serious shoveling .
Molière's play dates to 1668, late in the brief but eventful life of that playwright/producer/performer who scandalized Paris but who got away with it because he had the protection of the King. Of course, it helped that the king happened to be "The Sun King" Louis XIV. The play involves a miserly widower so attached to his money that he has his fortune buried in his back yard. None of his wealth is frittered away in such frivolous pursuits as supporting his children, or even repairing the broken windows in his dilapidated "estate."
Three hundred years ago, that miser was played by none other than Molière himself, taking full advantage of his chronic cough, shortness of breath and stooped posture. Today it is Ian Armstrong as the titular miser and he substitutes furtive glances, grimaces and cringes as infirmities of character for Molière's infirmities of body. His miser is a very funny caricature of self-inflicted misery.
Armstrong's miser is father to two children of marriageable age — but how to avoid the dreaded "dowery" issue? His son happens to be in love with a young woman who, it turns out, he is to wed himself. Rex Daugherty boosts the production's energy level as the sun while Katie Atkinson is the miser's daughter who is in love with a household servant who has a secret of his own. Mix everything up under the influence of a matchmaker with a hidden agenda of her own, and you have enough plot twists and turns to keep things jumping for just under two hours.
As if any additional spice were needed, two very funny performances as household servants are provided. (This is, after all, Parisian society where even misers have staff.) One is the household cook in the person of Frank Britton. The other is the coachman, also played by Britton because the miser only hires one person for both jobs. In an inspired piece of tomfoolery, Britton calls the manic events to a screeching halt when the miser finishes issuing instructions to the cook and begins instructing the coachman. "Hold everything! The coachman will be right in," he says and heads off stage to change costumes while everyone onstage waits.
Adaptor David Ball's script is full of crudities. Apparently, in the supposedly sophisticated upper reaches of Parisian society everything tends toward the scatological. Tobias Harding has provided a junk-littered set for the piece with a giant skylight with un-repaired broken glass and Jessi Cole Jackson's costumes place the piece in a modern world where worn sneakers seem perfectly appropriate.
***
Brad Hathaway reviews theater in Virginia, Washington and Maryland as well as Broadway and writes about theater for a number of national magazines. He can be reached at Brad@PotomacStages.com.