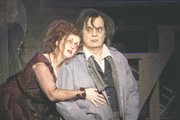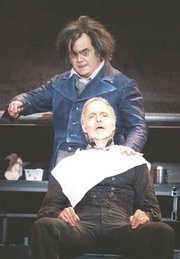 Signature Theatre returns to the show that started it all for them. In 1991, their very first musical, Stephen Sondheim's "Sweeney Todd: The Demon Barber of Fleet Street," took the Washington theatre community by storm. That was when they were performing in Arlington County's Gunston Arts Center's 89-seat Theatre Two.
Eight years later, after they graduated to their own slightly larger house, the 138-seat former chrome plating shop on South Four Mile Run Drive, they returned to the piece, again directed by Artistic Director Eric Schaeffer. That fresh look sparked even greater dramatic and musical results.
Now they have moved into the two-theatre complex in Shirlington Village and Schaeffer takes a third look in a third venue at this musical melodrama for adults. Instead of topping those earlier successes, however, this time out there is a surprisingly low energy level and a certain confusion about the production.
Still, "Sweeney Todd" is a musical of prodigious proportions with enough first-class material to make up a passel of great musicals. It has romance, comedy, drama and horror all set to music that alternately soars and romps with lyrics that are at times clever and at times graphic but always literate and inventive. If you have never seen a production of "Sweeney Todd," this is a must-see. If, on the other hand, you've seen either of Signature's earlier efforts or the fabulous other production that Eric Schaeffer has given us — the one that was part of the six-show Sondeim Celebration of which he was artistic director at The Kennedy Center, you may find this one somewhat disappointing because the expectations were so high.
The key seems to be the performance of one of our area's premiere classical actors in the title role. Ed Gero, who holds no fewer than four Helen Hayes Awards for outstanding performance by an actor in a play, tackles one of the most challenging but often most rewarding roles in dramatic musical theater. He's the demented, tormented barber who uses his razor to wreak vengeance for the mistreatment he has suffered at the hands of the powers that be in mid-19th century London. Having been deported to hard labor in Australia on trumped up charges by a judge who covets his pretty wife, Todd returns after a ship wreck to find his wife took poison after being raped by the judge who then took their daughter as his ward and now, 15 years later, plans to marry her himself.
Through the entire night Sweeney's eyes seem blank, with a somnambulant emptiness clearly the result of his 15 years of unimaginable pain. It is a psychologically valid approach to the role, but it is a dramatically inert one that drains the production of the intensity inherent in the script and score. It is a musically inappropriate choice as well because, as composed, Sweeney's blood lust is manic — just look at the explosion of "you sir, how about a shave?" or the gleeful mania of the musical line of his statement that "The history of the world my sweet is who gets eaten and who gets to eat." While Gero sings acceptably, his semi catatonia saps the life from the entire production just as Sweeney's razor drains the blood of his victims.
It also deprives Sherri L. Edelen, one of the finer musical actresses to work frequently at Signature, of a vibrant partner to play against. She portrays the proprietress of a bake shop who has eyes for Todd both as a love interest and as the source of human remains as she makes a success of meat pies containing his many victims.
The balance of the cast offers performances of varying quality, and collectively they provide a merely capably sung rendition of a score that has an astonishingly wide range of riches. Channez McQuay is in strong voice as the "half crazed beggar woman" hovering on the edges of Sweeney's world, and Gregory Mahue adds a touch of youthful vigor as the sailor who saved Todd from the sea and falls in love with his daughter. He has a voice that could hold its own among a stronger cast than this. Erin Driscoll sings smoothly as the daughter even as her charms are hidden behind a formless costume. Chris Van Cleve and Chris Sizemore team up rather nicely as the evil judge and his smarmy assistant.
Michael Bunce, on the other hand, walks through the role of a conman pretending to be a talented barber without much distinction at all. Sam Ludwig makes the transition from the conman's assistant to demented survivor of carnage well, although just what the intention was behind shaving portions of his skull escaped me.
New orchestrations of the sumptuous Sondheim score by Zak Sandler are inventive in their use of just four players. As a result, the piece has a surprisingly detailed instrumental sound which would please if it were matched by equally rich vocals. The ensemble singing, however, rarely reaches that level and often sounds thin and wavering.
Schaeffer's use of James Kronzer's industrial looking set of scaffold and metal grates is at times confusing as well. Entrances and exits through a door in the pie shop below "Sweeney Todd's Tonsorial Parlor" aren't always clear as to their locale and a towering set of doors serving as multiple places cause the audience to pause too often to try and figure out just where the action has taken them.
Sondheim's "Sweeney Todd" has been recognized as a masterpiece of the American musical theater and has begun to be included in the repertoire of even some of the world's great opera companies. This production provides evidence of that greatness, but it doesn't replace either of Signature's first two in the list of great productions of the pieced. This third Signature production disproves the adage that the third time is a charm.
***
Brad Hathaway reviews theater in Virginia, Washington and Maryland as well as Broadway and writes about theater for a number of national magazines. He can be reached at Brad@PotomacStages.com.