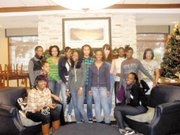 Talent and hard work put the Mount Vernon girls basketball team in a position to repeat as National District champions. Dancing and hanging out in Southern California might be what pushes the Majors to the top.
While many in the Washington D.C. metro area battled cold weather during the holidays, the Majors flew west to sunny Southern California for a tournament at Oaks Christian School in Westlake Village. The team departed on Virgin America from Dulles Airport on Dec. 25 and returned from LAX Dec. 31. Mount Vernon played four games and finished 2-2 against what head coach Terry Henderson said was quality competition. The Majors beat Taft (Woodland Hills) and Westlake before losing to Oaks Christian and dropping a rematch with Taft.
But while time on the court should help the Majors down the road, it was the experiences away from basketball which appears to have improved the chemistry on a team composed primarily of decorated seniors and talented newcomers.
The fun started on the plane, which was equipped with wireless Internet and satellite TV. Players looked at Facebook on their laptops while coaches watched basketball games. They were able send text messages to each other through screens installed in the back of each seat.
"It was fun. It gave the girls a chance to bond," Henderson said. "Meeting up at the airport, it kind of felt like a professional atmosphere to the girls. Everyone had their jackets on. It was real exciting to have girls who were flying for the first time, girls that hadn't flown since they were kids. … The whole atmosphere was nice."
Sophomore forward TiTi Gray was one of the first-time flyers.
"I was scared," she said. "The stories I heard — the takeoff was horrible, it's real bumpy — [were bad]. But when I actually got to the plane, I wasn't that scared. I got into the air and I was fine. When we were about to land I got kind of scared because I heard it was shaky, too, but then we landed and it wasn't that bad."
Henderson said the team came up with the idea for the trip during the summer. Each player had to pay for her own plane ticket and part of the hotel costs. The rest was covered through fund raising, Henderson said, including concession stand sales and a homecoming dance for parents. The team is also hosting a spaghetti dinner on Jan. 23.
Between games the team would eat meals together and check out some of the area's attractions. The Majors went to Six Flags Magic Mountain, Staples Center and the Hollywood Walk of Fame, among other places. The Majors also went shopping.
There were many amusing moments, but one evening stood out to Tracy King. The players gathered and hung out in a room shared by King, Gray, Jasmine McDonald and Taylor Dunham. It was there, King said, where the team did much of its bonding.
"We have a lot of new players on the team and then we have a lot of people that played with each other before," said King, speaking to the gap in age and experience. "It definitely brought the team closer because we weren't as close as we are now. We danced in there, we talked, we ate, we had fun."
Along with having fun, the team benefited from the return of two of its star players. King while in California played for the first time since tearing an ACL in last season's regional tournament. Senior point guard Jalinda Venable, a first-team all-district selection last season, returned to play for the first time this season.
"I thought we did good because it was the first time I played again and we had Jalinda back, so it was kind of like everybody was getting used to each other," King said. "From that point of view, I think we did good. I just think that the last two games we didn't play to our full potential, which is why we lost. It was that the teams were better than us."
McDonald, one of the team's top defensive players, expressed her joy over King's return.
"Personally," she said, "I'm glad that she's back because I miss playing with her."
Mount Vernon started the season 4-0 in district. If the team's chemistry is strong, the Majors have the talent necessary to repeat as champions.
"It was something new for me since I've never really traveled," Gray said. "I've never really been outside of Virginia and Maryland so … it was a cool experience."