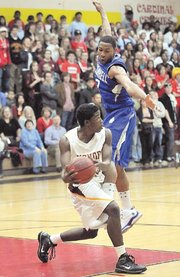 The Bishop Ireton boys basketball team outscored Bishop O'Connell 14-1 in the second quarter Friday but couldn't maintain a one-point halftime lead. O'Connell scored the first eight points of the second half and won 53-44 at Ireton's Godley Gym.
A free throw by Antonio Rouse pulled the Cardinals to within three with 2:41 remaining in the fourth quarter, but could get no closer. O'Connell closed the game on a 9-3 run.
"You've got to give them credit for making plays," said Ireton coach Neil Berkman, who added the Cardinals had been within four points in the fourth quarter against five of their six conference opponents at that point.
Patrick Hanafin led Ireton with 20 points and Rouse added 14.
Ireton lost to St. Mary's Ryken on Tuesday, dropping its record to 5-10 overall, 0-7 in the Washington Catholic Athletic Conference. The Cardinals host Gonzaga at 7:30 p.m. Friday.
"I think we're getting close," Berkman said. "We have to learn how to get over the hump. … We're not playing poorly … but we're not getting the results from the ledger."
<b>T.C. Williams Girls Beat West Potomac</b>
The T.C. Williams girls basketball team traveled to West Potomac on Tuesday and beat the Wolverines 60-48, improving its record to 5-9, 3-5 in the Patriot District.
Charnelle Huggins scored a team-high 16 points for the Titans. Jasmine Norman scored 15 points and Sade' Barber finished with 12 points, going 8-for-8 from the free-throw line. Head coach Cavanaugh Hagen in a text message said the team is "still working on consistency and controlling our transition game."
The Titans lost at Woodson 51-38 on Friday at beat Lee 69-22 on Thursday at home. The 69 points were a season high for T.C. Williams. The Titans host West Springfield at 7:45 p.m. Friday. T.C. Williams lost its earlier matchup with the Spartans 79-45 on Dec. 11.
<b>McCulloch Named POY</b>
Connor McCulloch from the Alexandria youth football league was named the 75-pound National division Player of the Year by the Fairfax County Football Hall of Fame. Episcopal's Hunter De Butts was named the private school Player of the Year.
<b>Saints Wrestling Wins JPG Invite</b>
After winning their tri meet on Friday by defeating Landon 55-24 and Annapolis Area Christian Scool 48-27, the Saints wrestling team concluded a successful weekend by winning the John Paul the Great invitational on Saturday. The Saints entered 11 wrestlers and all 11 placed in the top three. Finishing third for the Saints were Brady Riles, Ben Luce and Tom Ed Becherer, finishing second were Jonathan Herrera, Erik Romanin, Matt Brinckerhoff and Doc Jacobsen, winning their weight classes were Shaw Whitley, Greg Voorhees, Tyler Haley and Kyle Swenson.
<b>Williams Scores 9 in Win</b>
Aaron Williams of Alexandria scored nine points for the Thomas Jefferson boys basketball team, which beat Marshall 48-42 on Friday for its first Liberty District victory.
<b>Youth Sports Coaches Needed</b>
The Alexandria Department of Recreation, Parks and Cultural Activities is currently seeking volunteers to coach youth baseball, girls fastpitch softball, track and field, summer basketball and swim team. Criminal history background checks are required. Interested persons should call the Youth Sports Office at703-746-5402 or e-mail mac.slover@alexandriava.gov.
<b>Softball, Baseball Registration Underway</b>
Registration has begun through March 15 for the Alexandria Department of Recreation, Parks and Cultural Activities' Youth Girls Fastpitch Softball for girls ages 5 - 16 years old and Youth Baseball Program for boys 5 – 8 years old. Anyone interested in registering should pick up a registration form from any of the neighborhood recreation centers or contact the Youth Sports Office at 703-746-5402 or go on the department's Web site at www.alexandriava.gov/recreation. Registration fee is $25.00.
<b>MVHS Dinner and Auction</b>
Mount Vernon High School Girls Basketball 11th Annual Spaghetti Dinner and Silent Auction will be held on Saturday. Tickets are $5. See a student athlete from the girls basketball team or contact Terry Henderson at 703-619-3146 or Terry.Henderson@fcps.edu.
<b>MV Baseball Camp Approaching</b>
The 2010 Mount Vernon High School baseball camp for ages 7-18 will be held from 4-7 p.m. on Jan. 24, 31 and Feb. 7 at the Mount Vernon Field House. The cost is $125 for three sessions.
For registration information, go to mountvernonsports.org or contact Luke Sable at lcsable@fcps.edu or by calling 703-405-5497.
<b>Youth Girls Volleyball League Championship</b>
The Alexandria Department of Recreation, Parks and Cultural Activities' Youth Girls Volleyball Program ended its season on Dec. 18 with the championship games. The semifinal games pitted Coach Ray's regular league champion team against Coach Hoffman's team with Hoffman's team winning in an upset, 2-1. In the other semifinal game, Coach Corbin's team defeated Coach Shomari's team 2-1.
In a spirited and tightly contested championship match, Corbin's team defeated Hoffman's team 2-1, winning their first league championship.
<b>Umpires Needed</b>
Northern Virginia Baseball Umpires Association (NVBUA) is in need of officials for baseball and volleyball. Umpires are needed for colleges, men's leagues, high schools and youth recreational leagues. Experience is helpful but not required. Formal classroom and on-the-job training will be provided. Classes will begin in mid-February. Umpires are needed for all communities in the greater Washington D.C. Metro area. Support local community's sports leagues by signing up. Call Ken Williams (703-400-3232) for more information or go to umpires.org to fill out a "New Ump" form.
<b>Umpires Needed for Adult Slowpitch Softball</b>
Fairfax Adult Softball (FAS), the largest softball organization in the area, is seeking umpires for our adult slowpitch softball leagues in Fairfax County. Umpires net pay starts at $25 per one-hour game and are paid monthly. Experience is desired but ASA training is provided beginning early February. Flexible scheduling is based on availability. Contact FAS at 703-815-9007 or email to: office@fairfaxadultsoftball.com.
<b>NoVA Flash Softball Looking for Players</b>
The NoVA Flash, a 14U fast-pitch girls softball travel/tournament team, is looking to add a few committed players from the Northern Virginia area for the 2010 Spring-Summer season. Formed late last summer, the Flash participated in four tournaments during the Fall 2009, compiling a record of 12 wins and 7 losses, with one second place tournament finish. At least one additional pitcher is needed to augment the current staff, as well as defensive players with solid skills and strong bats. The Flash uses practice fields in the McLean area. Players, 13 or 14 years old as of Dec. 31, 2009, who are interested in learning more about the NoVA Flash or arranging a tryout during Saturday afternoon winter batting practices should contact coach Mike Wheat at wheatsbaseball@aol.com, or by calling 703-966-3805.