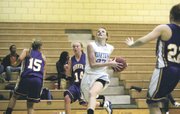 With her team facing a 20-point deficit in the third quarter, Yorktown's Lena Negri continued to hustle. The junior posted up and called for the ball. She scored in the paint. She got to the free-throw line. She crashed the boards. She blocked a shot.
But while Negri worked — she scored all of Yorktown's 10 third-quarter points — the Patriots' deficit wasn't shrinking fast enough. Yorktown entered the fourth quarter of its matchup with South County on Feb. 24 trailing by 18 points — a deficit that would grow to as much as 29. Eventually, Negri's desire turned into frustration as she threw an elbow or two in the direction of a South County player. Yorktown head coach Dave Garrison pulled Negri out of the game around the six-minute mark to calm her down.
"I was angry," Negri said. "You look up at the score and you're like, 'Why aren't we winning? We need a comeback. What's going on?'"
South County won 57-32 during the opening round of the Northern Region Tournament at South County Secondary School, ending Yorktown's season. The Patriots were able to get the ball inside against the Stallions, who had three players listed at 6 foot or taller, but couldn't get their shots to fall. Negri finished with a game-high 16 points, but no other Patriot finished with more than four.
"Lena Negri was hitting; she found hers," said Lindiwe Rennert, a first-team All-National District selection and Yorktown's lone senior. "I, myself, couldn't hit the broadside of a barn. Just wasn't my night, I guess. But those bigs — [South County's] big girls — it's like going up against four."
Alex Brown scored 12 points for South County. Lauren Adams (6-0) scored 11 points for the Stallions and Simone Antwi (6-2) added 10. Arianna Beard (6-2) scored five points.
WHILE THE SEASON ended in disappointment for Yorktown, the Patriots' future is bright. All but one player is slated to return for the 2010-11 campaign. Negri will be a key component on next year's team and enters the offseason with motivation. After earning second-team all-district honors and a sophomore, the 6-foot Negri was garnered honorable mention this season.
"I didn't understand why, but it was a little upsetting not to get first or second [team]," Negri said. "It just gives me a goal for next year to do better."
Negri's words were music to Garrison's ears.
"She has Division I athleticism," Garrison said. "It's just a matter of [working in the offseason]. … If she puts in the work, she's going to come back one of the best players in the district, possibly the region."
Yorktown will also return first-team all-district guard Peyton Lee, who was the Patriots' top perimeter threat, and honorable mention guard Brooke Huffman.
However, Yorktown will lose Rennert, who Garrison praised multiple times for her leadership.
"I'm sad to see our leader go," he said. "We said it at the beginning of the year: she's a third coach. … She's everything you want in a senior and a captain."
Rennert said playing on a team with multiple offensive threats made her adjust her game.
"As a senior, you always want it to be your year — especially if you're the only one," she said. "You feel like there are a couple more eyes looking at you than normal and you want to rise to expectations. However, I play on a team with a lot of great scorers — Peyton Lee … Lena Negri … Brooke Huffman — so that put me in a role where I didn't need to score. … As a role player I had to get used to doing the little things that don't get too much credit but they have to be done by somebody and preferably somebody with some experience."
Rennert, who was also a first-team all-defense selection for the National District, predicted success from next year's Yorktown team.
"It's been a great season," she said. "It taught me a lot being the only senior. I've never had to deal with that before. … I'm sad to leave it behind but it's been a good four years and I have no doubt that this team is going to be great next year."