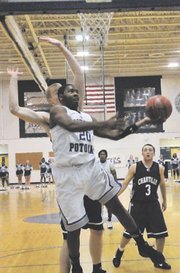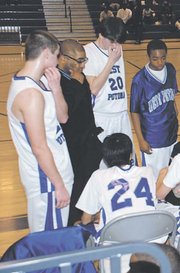 West Potomac boys basketball coach David Houston III needed a minute. He stood down the hall from the Wolverines' locker room, composing himself while leaning against a wall.
The Wolverines' season had just ended with a 63-51 home loss to Chantilly on Feb. 25 in the quarterfinals of the Northern Region tournament. But it was more than just the culmination of the 2009-10 campaign to Houston and the Wolverines. It was the end of an emotional run which saw a group of players improve from six wins and seventh place in the Patriot District to district champions, 17 wins and a regional victory over Falls Church.
Eight West Potomac seniors had played their final game and Houston wanted a moment before he spoke to them in the locker room.
"They gave everything they had," Houston would later say. "Nobody felt like we would be in the regional tournament — not even in the regional tournament — let alone the top team in the best district in the region. … This is the best team that I've had as far as a collection of players with one goal. … We won the [district] championship [and] I think we did it the right way. We didn't go out and get transfers. We did it with the same kids we had last year."
MOTIVATION came in multiple forms for West Potomac. While the Wolverines wanted to prove others wrong regarding their ability, they also played for a greater purpose.
Rev. Maurice Barbour, "Coach Moe" to the Wolverines, died May 21, 2009, of a heart attack at the age of 35. He was a summer league coach for West Potomac before Houston added him to the Wolverine staff as a junior varsity assistant for the 2008-09 season. An ordained Baptist minister, Barbour's relationship with the Wolverines was such that they dedicated their 2009-10 season to his memory.
"He was a fiery guy, always positive," Houston said. "I don't think I ever heard or saw him [act in a] negative [manner], not once. He'd do anything for the kids. He loved being around them. He'd drive them to summer league games when we were bad. We were getting beat by 25, 35, 40 points and he's still picking them up and driving them to McDonald's or KFC."
Barbour joined Mt. Zoar Baptist Church in Fairfax in 1999. He attended Washington Baptist Seminary in 2000 and was ordained in 2006. He had two sons, Maurice Barbour II and Micah Church-Barbour, and one daughter, Mauriah Church-Barbour.
The Wolverines had a moment of silence to honor Coach Moe before every game. The team also kept a two-by-four board bearing Barbour's name next to the bench. When Coach Moe died, Houston said 18 kids in the West Potomac program attended his funeral at the Greater Little Zion Baptist Church in Fairfax.
"He was just a really good person with a good heart that believed in God and believed that there was a better purpose," Houston said. "He used to talk all the time, even though we were losing, 'It's going to turn around, it's going to come around.' The kids really loved him."
BARBOUR'S ATTITUDE made the Wolverines want to give maximum effort.
"He was always positive," senior Shakil White said. "He just knew how to pump you up."
"He was real good before the games at getting us real motivated," senior Matt Cunningham said, "and lighting that fire inside of us."
Coach Moe's ability to inspire remained after his death.
"He always treated me like a brother," senior Martez Redfearn said. "We could talk about anything. … He was a good man — good coach, too. … When he passed, I was like, 'I know what I have to do. I've got to push myself to another level now. I've got to work hard.' I knew that's what he wanted.
"He wanted to see us go far. I wish he was here to see this year. He would have been hyped on the bench. … He was a big part of West Potomac basketball."
As a coach, Barbour told the Wolverines to push the tempo and believe in themselves.
"His favorite words were always, 'Have Wolverine pride,'" senior Shawn Lee said. "He always used to talk about pride."
Pride wasn't enough for West Potomac to get past Chantilly. Consecutive 3-pointers by senior Terrell Ward gave the Wolverines a 21-14 advantage at the end of the first quarter, but the lead slowly slipped away. West Potomac led 27-25 at halftime but Chantilly took over late in the third quarter when Adam Fridy drained three consecutive 3-pointers to put the Chargers ahead, 38-29. Fridy's fifth and final triple put Chantilly ahead by 15 with 3:49 to play in the fourth quarter. Despite the deficit, the Wolverines continued playing hard, just how Coach Moe would have wanted.
"No matter what the score was of any game, he still kept us up," senior DeAndre Essex said. "We still played hard for him every game. The way he spoke to us was motivation."
Fridy led Chantilly with 21 points. Daryl Copeland paced West Potomac with 16 points and Ward added 10.
"I think he's looking down proud," Houston said after the game. "I definitely don't think that he's angry right now or said or disappointed."