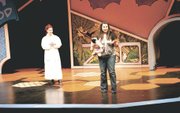 Six professional Washington, D.C., area theatre companies will write, direct, rehearse and perform original plays based on similar themes in only 24 hours. The plays will be presented at the sixth annual Play In A Day, a one-of-a-kind event produced by the Bethesda Arts & Entertainment District, on Saturday, March 20 at 8 p.m. at Imagination Stage's Lerner Theater.
Participating theatre companies include: Adventure Theatre (Glen Echo, Md.); Ganymede Arts (Washington, D.C.); Imagination Stage (Bethesda, Md.); Olney Theatre Center (Olney, Md.); Round House Theatre (Bethesda, Md.) and Woolly Mammoth Theatre Company (Washington, D.C.).
General admission tickets are $15 and can be purchased by credit card online at www.bethesda.org. Remaining tickets will be sold at the door beginning at 7 p.m. Imagination Stage is located at 4908 Auburn Avenue. Free parking is available next door in the Auburn Avenue/Del Ray Avenue public garage.
Play In A Day kicks off on Friday, March 19, where playwrights and directors will come together to receive their assigned themes and props. Playwrights then work through the night creating their 10-minute masterpieces. As the sun comes up, rehearsals begin as teams of directors and actors prepare anxiously to make the 8 p.m. performance deadline on Saturday, March 20. Accredited judges will award $1,000 in total cash prizes.
Accredited judges will award $1,000 in total cash prizes for Best Direction ($250), Best Writing ($250), Best Ensemble/Acting ($250), Best Overall Play ($250) and additional prizes will be awarded for audience favorite.
The judging panel includes: Jessica Burgess, artistic director at The Inkwell; Jennifer Nelson, director of special projects at Ford's Theatre; and Dr. Maya Roth, assistant professor of Theater and Performance Studies at Georgetown University.
For more information, call 301-215-6660 or visit www.bethesda.org.
More like this story