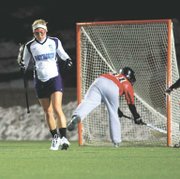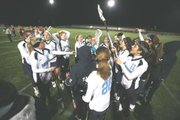 Five years with the Yorktown JV will help Anne Bodnar with her transition to head coach of the varsity girls lacrosse team in 2010. However, the program's four consecutive National District championships will do nothing to lessen pressure or expectations.
Bodnar takes over a program with 14 seniors and three returning all-district athletes, including Player of the Year Hope Barrazotto. The Patriots have the talent and experience for continued success, which also provides ammunition for critics if the team falls short.
"It's a little bit of pressure on me, for sure," Bodnar said. "I'm ready for it."
Bodnar is familiar with many of the Patriots, either from coaching them at the JV level or watching them during varsity games — an element which figures to help ease the transition as players grow accustomed to Bodnar's leadership on the varsity level. A senior-dominant roster figures to help with communication.
"I've had experience with [Bodnar], I've talked to her --- she's a really great coach," Barrazotto said. "She's seen us play. … She knows how we work."
With four straight district titles and Bodnar's familiarity with the program, it would make sense if she decided to follow a blueprint to success already in place. But while Bodnar spoke highly of the program's status, she said she wants to implement some of her own style.
"I think the program as it stands is really good and I don't have any complaints," she said. "But I think I have some new ideas to add. We're working on some new drills and some new plays. I think it's great where it is, [but] I think I'm adding some little touches."
What are those touches?
"I'd like to keep the trade secrets," she said.
LEADING THE WAY on the field during Bodnar's first season is Barrazotto, a goal-scoring threat from the midfield position.
"She's got great stamina," Bodnar said. "She can play the entire field. She also encourages the other girls, which I think is great. She's a great team player, not just looking out for herself but really looking out for her teammates, as well. She's got good game sense. She's just a good all-around player."
Barrazotto said she wants to add some new elements to her game since other teams are familiar with her skill set. Bodnar said she wants to keep the senior motivated after earning the district's top individual honor.
"It's hard because when you're given that title [of Player of the Year], I don't want her to think that she knows everything," Bodnar said. "She's willing to listen, she asks questions and she definitely wants to continue to do better. I think she's pushing herself."
Another key returner for Yorktown is two-time first-team all-district goaltender Libby Kane, a senior.
"She sees the game, she sees what's going on," Bodnar said. "She talks to her teammates — she's probably one of the most vocal girls on the field. [She is a] great communicator — she just wants to win."
Kane said while there's pressure to remain successful, the Patriots are focused on playing up to their own expectations.
"We definitely want to continue the legacy," Kane said. "There is sort of that pressure, but … it's not so much, 'Oh, we have to do it because they did.' It's because that's what we want to do."
Defender/midfielder Ashley Mandel-Fredericks is also a returning first-teamer for the Patriots. Bodnar said the senior is "very fast" and has "good game sense."
Barrazotto, Kane and seniors Liz Verrecchia (defense) and Molly Adair (attack) are the team captains.
Seniors Amy Snelling (defense), Ashley Casteel (defense), Colleen Cooper (defense/midfield), Krista Vikander (defense), Maggie Leeker (attack), Meghan Albrittain (attack), Olivia Shipley (midfield), Shannon Smith (defense), Wallis Taylor (defense), juniors Christine Downie (attack), Erinn Spack (attack), Hannah Madison (attack), Michelle Casteel (defense/midfield), Virginia Brady (defense) and sophomores Addy Savarino (attack/midfield), Beni Yuzawa (defense/midfield) and Ella Richardson (attack) will compete for playing time.
Shipley's family lived in New Zealand with her family during the 2009 season, but is expected to be a big contributor this season.
"She's got a little catching up to do," Bodnar said, "but I'm expecting to see good things from her this year."
Yorktown opens its season March 16 at West Potomac.
"I expect some really good things," Bodnar said. "I think we have a really stellar team. We've got a lot of skill [and] we've got a lot of returning players."