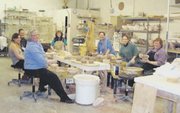 Members of Clay Connection gathered recently to hold a marathon bowl-making session. Bowls they made will be donated to the Empty Bowls benefit supper for hunger relief to be held on April 9 in Reston. For a minimum donation of $20, guests at the event will choose a handmade pottery bowl and receive a simple supper of soup, bread, beverage and dessert. The bowl is theirs to keep as a reminder that there are "empty bowls" in our community.
Hundreds of bowls in various colors and patterns are being made by area potters from all over the area. In addition to Clay Connection, they include members of the Bowman House Arts and Crafts Center in Vienna, the Clay Café in Chantilly and potters from the Reston and Herndon Community Centers.
Marianne Cordyack, president of the Clay Connection, said the group is holding three "Bowl-a-Thons," gathering at 5 p.m. and working late into the night to make 350 bowls. She said she is glad her group can help out.
"I make bowls. It's something I do well, and it's something I can do to help fight hunger in Northern Virginia."
Dick White, a longtime member of Clay Connection, adds, "It's part of our tradition. It's something we do as a group to help out."
Also helping out is the Creative Clay Studios in Alexandria, whose owner, Ed Bull donated the use of the studio for the Clay Connection artists.
The Empty Bowls fundraiser, to be held at St. John Neumann Catholic Church on Friday, April 9 from 5:30 to 8 p.m., will be the third annual such benefit sponsored by the Giving Circle of HOPE. All proceeds will go to Food for Others, the largest distributor of free food to the needy in Northern Virginia.
Peggy Cressy of the Giving Circle of HOPE said the event has been hugely successful. "It seems to resonate with people. They feel good about helping others, but they also have a lot of fun picking out their beautiful ceramic bowls."
Cressy says that there are many volunteers who work hard on the event but the potters are the foundation of it all.
"Without the wonderful handmade bowls by all the local potters, there wouldn't be an Empty Bowls fundraiser."
Tickets for Empty Bowls are available by contacting givingcircle@hotmail.com or calling 703-648-0222.
<tgl>— Marilyn Silvey and Cathy Waters