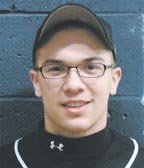 Wakefield head baseball coach George Baker has been here before. Whether it's a lack of experience, size or talent, Baker's Warriors are the underdogs on most occasions.
Wakefield returns four athletes from a team which won three games in 2009. On top of that, senior Sam Kealey, slated to be the ace of the team's pitching staff, suffered a ligament tear in his pitching elbow (right) during the fall and will likely be limited to first base duties. When asked about his expectations during Sunday's Northern Region media day at the Virginia Baseball Club in Merrifield, Baker, in his 11th season at Wakefield, didn't sugar coat his outlook.
"We're going to take our lumps, definitely, early because we're very young," he said. "This is really a JV team, a lot of underclassmen that have never seen varsity pitching."
Kealey, seniors Isidro Lopez and Matt Heckler and sophomore Chris Tito are the Warriors returnees.
If Kealey can't pitch, the Warriors' rotation will consist of three sophomores: Chris Tito, Glenn Kinsmen and Rene Escobar. Tito, a left-hander, would assume the role of staff ace.
Seniors TJ Dixon and Thomas Rice are left-handers playing baseball for the first time and learning how to pitch. Baker in an e-mail said the duo could be effective by midseason.
Kealey, a three-year starter who will bat third for Wakefield, said the Warriors should be a strong defensive team. He also said being an underdog is a driving force.
"[We need to] keep our expectations reasonable," Kealey said. "I think if [we keep] improving on our hitting we're going to be able to surprise some teams. … Also, being considered the poor school of Arlington, I think we carry that around and it's just extra motivation to win, to beat W-L and Yorktown."
Heckler takes over at shortstop after earning second-team all-district honors at second base last season. He will bat in the No. 2 spot for Wakefield.
Lopez will be Wakefield's catcher, replacing all-district backstop Ryan Kawakami, and bat fourth. Alex Molina could also see time at catcher.
Kinsmen will play second base when he's not on the mound. When the sophomore is pitching, Molina will play second. Nick Werner, Will Ryan and Escobar are competing for playing time at third base.
Tito will lead off and play center field when he's not on the mound. Kevin Caneva will play left field. Ivan Lopez, a freshman, is the team's utility player.
While he expects tough times early in the season, Baker is hoping the Warriors can follow in the footsteps of some of his previous Wakefield teams.
"I did go to the district championship in 2002 and 2006 with teams that didn't do very well at the beginning," Baker said, "but they really improved at the end and that's my goal with this group — just to get better by playing every day."