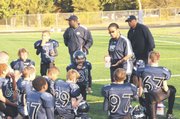 When news broke that Coolidge High School in Washington, D.C., had hired a woman to coach its football team, the announcement didn't faze Stevie Bridgwaters-Brown, a 47-year-old mother of two who has been a head coach for Springfield Youth Club for four years.
"I love the game, and being a coach gave me an opportunity to be with my boys," the West Springfield resident said.
While most women might be intimidated by trying to break into a "man's game," Coach Brown, as she prefers to be called, never wavered from achieving her goal to be a football coach.
With encouragement from her husband, Rick Brown, she put her name on the list for a head coaching position in 2006 after working as an assistant coach for two years.
"I had been preparing myself to be a head coach," she said. "I went to clinics, was up to date on all the rules in Fairfax County and got myself psyched up. I even had male coaches who wanted to coach with me."
Despite previous experience as an assistant coach, Bridgwaters-Brown said her application was overlooked.
"I was one of the first to turn in my coaching forms," she said. "But I was listed as seventh out of eighth in line to get a team. I couldn't understand it."
In 2006, Bridgwaters-Brown attended the SYC's combine day, where future coaches can evaluate players for the upcoming SYC draft, but wasn't awarded a team.
"It really upset me that I was that low on the list, below people who had never coached football before" she said. "But I had to stick with it."
Her perseverance paid off. One of the coaches backed out on his team before the SYC draft, thrusting Bridgwaters-Brown to the helm of her first head coaching job.
"I got a team in another weight class," she said. "It wasn't the weight I watched at the combine."
With little knowledge of the players in her new weight class, Bridgwaters-Brown drafted a team with the help of other male coaches. By searching last names, she found the siblings of players she previously coached.
While Bridgwaters-Brown might have received her team by chance, their 5-2 record was no fluke.
Since then, she has been on the sidelines calling the plays and even had the opportunity to coach her own son Trent.
"People don't believe me when I say my mom is a coach," Trent Brown said. "I have to tell it to them a couple of times."
Trent Brown said his mom's coaching style is fair and similar to his everyday life.
"It's a lot like home," he joked. "She's yelling at me and getting on me."
Bridgwaters-Brown said she hasn't encountered sexism from her players or other coaches, but the occasional referee does look past her.
"Sometimes the referee will come up to me and ask, 'Where's the head coach?" she said. "I'll have to explain, 'It's me.'"
Only one family has ever requested that their son not be on her team, she said. SYC Deputy Commissioner of Football Pat Eckert said Bridgwaters-Brown is one of the youth program's most popular coaches.
"We never have a problem with her parents," he said. "Sometimes parents complain about the coach. With her, it's never a problem. A lot of her parents want to be on her team again, but they just can't."
Bridgwaters-Brown's also the only female head football coach in the Fairfax County Youth Football League.
Eckert said her popularity doesn't just come from her ability to win games, but also her level-headed coaching style.
"She understands that they're just kids," he said. "She doesn't try to turn it into the NFL."
Bridgwaters-Brown's journey to become a SYC football coach is only half of her football story.
Her pigskin beginnings started in a place where American Football doesn't have much of a following to this day: England.
Her father, Oliver Bridgwaters, served in the U.S. Air Force and played on the Air Force base's football team.
"We lived in England and it was the late '60s," she said. "The armed forces used to have full contact competition then, and my dad played and coached on the team."
The game enthralled Bridgwaters-Brown and sparked a curiosity in her to learn it from her dad.
"I was my dad's shadow," she said. "Anything he did, I tried to do. I'd even look at his playbook."
Bridgwaters-Brown's father encouraged her interest in the sport, and while other children played "Cowboys and Indians," Bridgwaters-Brown received a gridiron education.
"He explained the X's and O's to me," she said. "As complex as the game is, it made sense to me. If you keep it simple, it's easy to understand."
When her family moved from England to California, Bridgwaters-Brown decided to try out for her junior high school's team.
"I wanted to try out for the team," she said. "I went to the practices every day and the head coach was kind to me, but my mom didn't want me to try out."
Instead of football, Bridgwaters-Brown played fast pitch softball, field hockey and joined the cheerleading squad, but her passion for football never died.
"It was funny, I'd be on the sideline cheering, but I would stop to watch the game and would explain what was happening to the gals," she said.
Now a four-year coaching veteran, Bridgwaters-Brown is looking forward to a new challenge in the fall — coaching 12-year-olds and 13-year-olds.
The new age group consists of players who will one day be playing for local high schools such as South County, West Springfield, Lake Braddock and Robinson.
Brown admits the new age group might present some challenges, but it's nothing she hasn't conquered before.
"I've never had a problem with the kids showing me respect," she said.
While the new weight class, featuring larger and more intense competition, is a change from the ankle-biter teams she's coached in the past, her goal for the players remains the same.
"My goal is to get them to come back for next year," she said. "So far, they've all been coming back."