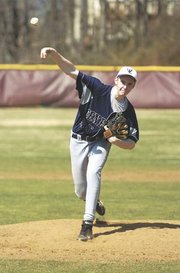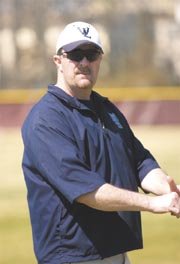 The Washington-Lee baseball team opened its season with a strong offensive performance, beating Marshall 8-5 on Friday. Benjamin Coffman and Tim Edwards hit home runs for the Generals.
Saturday's game against Oakton? Not so much.
Washington-Lee followed its eight-run opener with a dud against the Cougars, falling 12-0 in five innings at Oakton.
"We either watched way too much college basketball last night or something," W-L head coach Doug Grove said with a laugh, "but we didn't do anything today. But it's [only] one out of 20 games."
All jokes aside, the Generals, who received votes in the Northern Region preseason coaches poll, expect to be a strong-hitting club. Grove mentioned the junior Coffman and seniors Tim Edwards, Tom Edwards, Jeremy Seipp and Christian McGillen as offensive standouts.
Seipp and senior Karl Lendenmann each had a double for the Generals' only hits against Oakton pitcher Ty Prime. Grove pointed to Prime's ability to locate pitches and the right-hander's velocity being lower than what Washington-Lee had faced the previous day as reasons why the Generals struggled.
"We hit real well [against Marshall while facing] a real good pitcher, I thought," Grove said. "He threw a little hard. I think [against Oakton], to this pitcher's credit, he just threw the ball across the plate. It looked like a little cutter on the outside and we just rolled over everything. The third baseman made seven plays and that was the story of our offense, in my opinion. [Prime] didn't walk anybody and had pretty good location. Our guys were overanxious — we hit a couple home runs last night — I think they were trying to get out in front.
"… For us, today notwithstanding, I think we're going to be pretty good offensively. This was the right type of guy to face us today."
From a pitching standpoint, No. 1 starter Tom Edwards returns, but the left-hander is recovering from a shoulder injury. Grove said Edwards has thrown three bullpen sessions and the team hopes to get him back on the mound during spring break.
While Edwards recovers, junior right-hander Austin Evans steps into the No. 1 starter role. Coffman, who pitched against Oakton, is the team's No. 2 starter.
"Our pitching and defense is what we need to really tighten up if we're going to be any good," Grove said. "But we do have a fairly experienced team."
Washington-Lee hosts Wakefield at 6 p.m. Thursday.