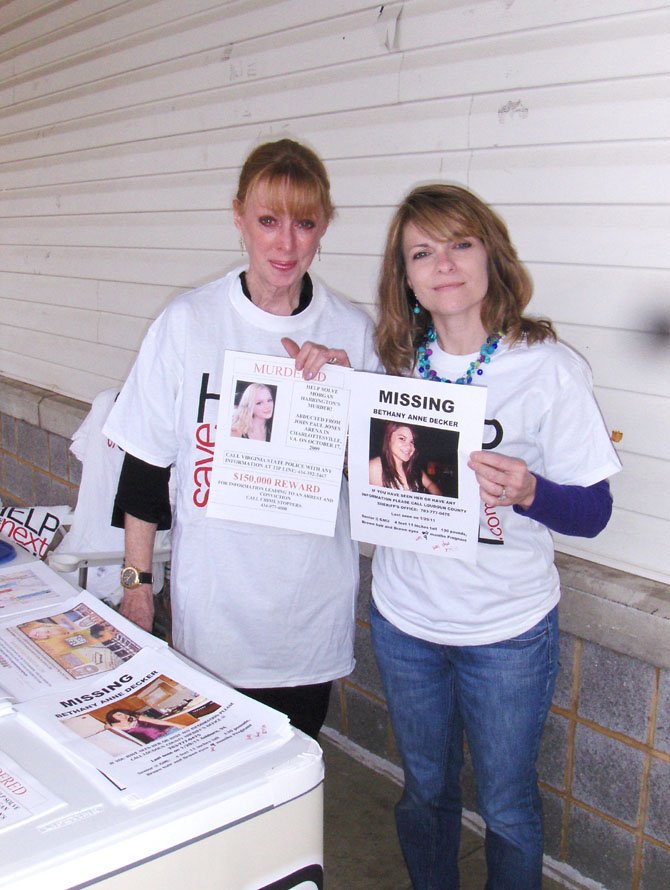 Centreville — Kim Nelson goes to bed at night hoping she'll someday see her daughter again; Gil Harrington knows she'll never be able to because her own daughter is gone forever. Saturday, March 31, they were together in Fairfax seeking information about what happened to their girls and doing what they could to prevent similar tragedies from befalling someone else's child.
Suspect, Tip Information
The suspect was described in 2005 as a black male, 25-35, height 5'9"-6'0," weight 180-220 pounds; black hair, beard and mustache.
To provide or request additional information in the Fairfax or Charlottesville cases, contact Fairfax County Police Det. Michael Boone, 703-385-7959 or michael.boone@fai... or Virginia State Police Agent Dino Cappuzzo, 434-414-4456 or dino.cappuzzo@vsp...
Reference Fairfax case No. 667782 or state police case No. 10-83-02-0098.
Anyone with information about Bethany Decker's case should call the Loudoun County Sheriff's Office at 703-777-0475.
Nelson's daughter Bethany grew up in Fairfax County and, at one time, lived in the Shenandoah Crossing Apartments in Chantilly. She was a senior at GMU when she disappeared in January 2011.
Harrington's daughter Morgan, a 20-year-old sophomore at Virginia Tech, vanished outside a Metallica concert in Charlottesville in October 2009. Morgan's body was found in a pasture, three months later; and in summer 2010, authorities linked her killer's DNA to the person who abducted and sexually assaulted a Fairfax woman in September 2005. So Saturday afternoon, Nelson and Harrington stood outside the Jermantown Road Giant Foods store — near where that crime occurred — passing out informational posters and brochures and warning others that the perpetrator has never been caught and may still be in this area.
They also shared their stories with anyone who stopped by their table, desperately hoping that someone might know even the tiniest detail that might help them find this man.
"Perhaps he frequents this store or others around here," said Gil Harrington. "We know he has a habit of abduction, sexual assault and murder, and we don't want these habits repeated. People need to know about him and to be cautious."
"My daughter's dead, but we want to save other families from going through what we went through," she said. "And it makes the pain more tolerable to help someone else. You have to find a new life because the old one is broken."
Morgan planned a career in education and intended to work with orphans in Zambia with her mother, the following summer. But exactly what led to the events of Oct. 17, 2009 is still shrouded in mystery.
No one knows for certain why Morgan left her friends and the concert arena during the opening act, but witnesses said she was acting erratically and was last seen that night hitchhiking on a bridge. Police believe a motorist picked her up and — although a $150,000 reward is offered for anyone providing information leading to her killer's arrest and conviction — the perpetrator is still at large.
Bethany was 21 and studying global and environmental change at GMU. She was three classes away from graduating when she disappeared. Her married name was Decker, and her husband Emile was serving with the National Guard in Afghanistan at the time. Their son, Kai, was 1 and a half, and Bethany was five months pregnant with their second child.
She was last seen, Jan. 29, 2011, at an apartment in Ashburn. She and Morgan are not connected, except that both suddenly vanished. And now, both of their mothers are working with HelpSavetheNextGirl.com to try to prevent this from happening to anyone else.
Harrington organized this group in October 2011. "There was no saving my daughter, but we could save the next family," she said. "Behind each girl's name on our posters is a whole cadre of people who are hurting."
"Someone from the campaign reached out to me on Facebook and let me know about the organization," said Nelson. "We want to help save people from the next heartbreak of having a child that's murdered or missing. Nobody ever thinks it's their daughter who'll go missing."
Harrington said people nowadays hear about disappearances so often that they "become immune to it." But her daughter and Nelson's daughter aren't mere statistics.
"What we're doing is standing up here and individualizing it," said Harrington. "Maybe when people look into the eyes of we two mothers, they'll see the loss and pain we feel — and it'll become real to them."
Bethany's son is now 2 and a half. "I show him pictures of his mother and he asks, 'Where's Mommy?'" said Nelson. "And I have to tell him, 'I don't know.' My other daughter, Ashley, is a student at Old Dominion University, but she's now coming home to live for awhile because she's just devastated by this. So it's had a ripple effect throughout the entire family and on Bethany's friends."
"There's always a void, so that's why HelpSavetheNextGirl is so important," said Nelson. "And I want people to know my daughter isn't forgotten. I still hope she's out there somewhere; not knowing is very difficult."
Kenny Jarels, who works in computer and electrical engineering at VT, was one of the group's volunteers accompanying the women to Fairfax on Saturday. He said it's vital to spread the word about the suspect.
"We go everywhere — where we think this guy lives in Charlottesville and where we know he's been," said Jarels. "We want to jog someone's memory because we know he's out there somewhere."
The Fairfax crime occurred Sept. 24, 2005; the victim was 26 and had just finished grocery shopping. "She left this [Giant] with both arms full of groceries and possibly walked to the left of the store on her way home," said Jarels.
According to City of Fairfax police, it was about 10 p.m. and the woman lived three or four blocks from the Giant, in the Oxford Row townhouses on Rock Garden Drive. She was walking down her street and had almost reached her steps when, said police, the suspect allegedly grabbed her from behind and carried to the park/swimming-pool area, where he choked and sexually assaulted her. He then fled and was last seen running south toward Fairhaven Court.
"Someone else came by and scared him off," said Jarels. "But we believe that, if we can find the missing link between the Fairfax and Charlottesville cases, then police can solve them both."