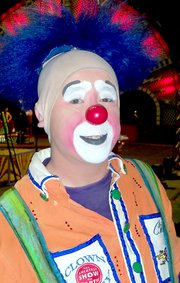 Clown alley of Ringling Bros. and Barnum & Bailey has a vacancy. Across the entire United States, the odds of being chosen are 308 million to 1. Narrow it to Estill Springs, Tenn. and the odds become 2100 to 1. Chris Sullivan, pharmacy technician, beat both odds and is the newest and youngest clown in the alley.
The choice of career was not made for him, as with generations of so many circus performers. At home in Tennessee, Dad worked for the Postal Service and Mom was a manager with Wal-Mart. Neither his sister nor his brother ever thought of running away to join the circus. The question is: What happened to Sullivan?
Well, he constantly was involved with performing arts. In middle school, high school and afterward, he appeared in school productions and with mid-state theatre groups large and small. Touring Europe in the choir of a youth group, Tennessee Ambassadors of Music, broadened his perspective.
Sullivan saw his first circus only three years ago with a friend arranging backstage visits. Intrigued, he attended two sessions at the Mooseburger Clown Arts Camp, Maple Lake, Minn. There he picked up juggling, which has come in handy, and studied physical comedy under a faculty of retired circus performers. The most important lesson learned, said Sullivan, "is that you can never stop studying and you must never stop growing." He notes that his clown character is evolving and may wind up quite different from today's version.
Ringling announced auditions in summer 2010 and he competed in Dallas, Texas. At the end, it was a "We'll call you if something turns up" situation. He returned to his hometown and his job. The call came the following March.
Look closely during the circus and notice there are three types of clown: Whiteface, Auguste and Tramp. Sullivan is an Auguste, the type wearing over-sized clothing and using mostly flesh-colored makeup. He acts an innocent fool, is silly and moves blithely from failure-to-failure never losing confidence in the next improbable scheme. He also slips, falls and pulls gags on his mates and on the audience.
"I really enjoy making people laugh," he said. "Sometimes after a show and out of costume, I will mingle with the patrons. Nothing makes me feel better than hearing how much they enjoyed the clowns, and watching them smile as they recall the acts. If I can make some people laugh, I'm satisfied." He is content to remain an Auguste.
Circus people usually have more than one job. Sullivan's other duties include advance visits, that is, appearances in hospitals and orphanages and before local civic and social welfare groups. He also offers pre-show tours to local media and others. These activities require his voice, so the choir training proves useful.
The 23 year old is having the time of his life as the first full year of professional clowning is celebrated. His room — admittedly quite small — is on the mile-long train crisscrossing the country. Commissary department staff provides meals and snacks. Unmarried, all these arrangements suit him "just fine."
Pay for 11 months of full-time work is "decent," and more than the old drug store job, he reports. Whether he could earn a living worried the family. "My father was concerned because he once said I would work for a bag of peanuts as long there was an audience," Sullivan said.
These days those concerns have passed.