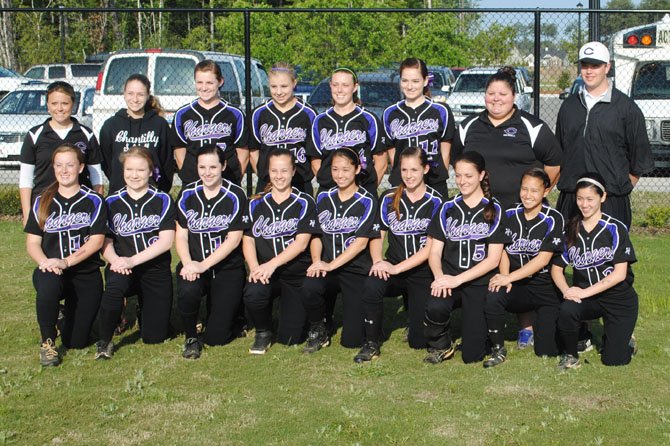 Chantilly — The Chantilly High girls' softball team received perhaps the best pitching outing by a Northern Region player thus far this season when senior Emily Gembarowicz, during the Chargers' spring break trip to Myrtle Beach last week, tossed a perfect game, no-hitter in her team's 6-0 win over Jamestown High (N.Y) on the morning of April 3.
Chantilly was in the Gamecock State competing in the Grand Strand Tournament. The game against Jamestown was the second of three the Chargers were scheduled to play on the trip. A day earlier, on Monday, April 2, the Chargers had lost a noontime game versus Berea High (Greenville, S.C.), 7-2.
The following day, Chantilly met the Jamestown High team in a 10 a.m. ball game. There, Gembarowicz threw her complete game (7 innings) gem, a perfect game in which she allowed no base hits, walked none, and struck out 19 batters.
The only times Jamestown hitters were able to make contact of the ball were two foul balls towards first base, including one that was caught by Chargers' first baseman Alex Sallberg, and a game-ending, infield pop fly that was caught by senior second baseman Rachel Major.
"It was really exciting to be a part of," said Chantilly coach Carmen Wise, of the Chantilly win and the pitching performance by Gembarrowicz.
One of the game's highlights on offense for Chantilly came on a perfect slap hit to second base by Charger freshman Kaitlyn Reis, who ended up rounding the bases and scoring on the play as a result of a defensive throwing error in which the ball wound up at the center field fence.
The following morning, Chantilly played its third and final game of the trip, winning a 4-2 decision in a contest that began at 8 a.m.
Chantilly returned home having won two of its three games on the spring break trip and holding onto a 4-3 overall record on the season.
Earlier this week, on Tuesday night, April 10, Chantilly was scheduled to play its Concorde District opener at Westfield High. This Friday night, April 13 at 6:30, the Chargers will return home for a meeting versus district opponent Oakton.