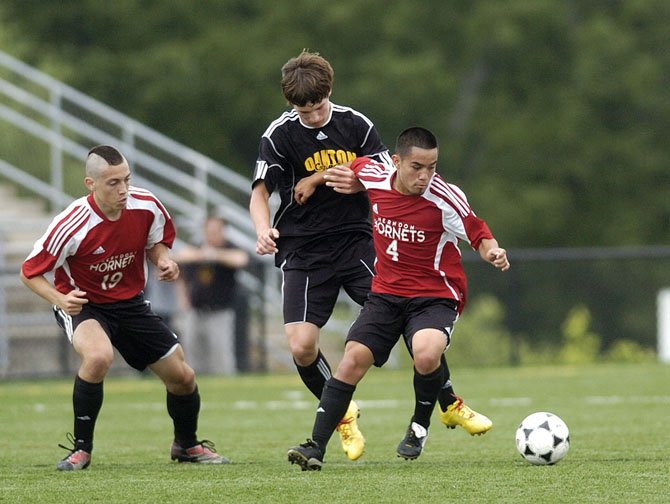 Herndon — The Herndon High boys' soccer team has experienced a successful opening half of the season, going 4-0-2 over its first six games. The team's solid play thus far has the Hornets in a good mindset as they prepare for a tough Concorde District schedule ahead.
Herndon was idle over last week's spring break with the exception of a couple of practice sessions in preparation for this week's scheduled games versus visiting district opponent Oakton on Tuesday, April 10, and home team Washington-Lee (National District) Thursday night, April 12 at 7 in Arlington.
"We've been preparing for our big game with Oakton," said Herndon head coach Sean Lanigan, of his team's focus on its district opener versus the Cougars.
Herndon, along with both Oakton and Robinson Secondary, appear to be the top teams in the Concorde this season. Herndon does not meet the Rams of Robinson until late in the season on May 7, the Hornets' second-to-last regular season contest which is scheduled to take place at Robinson.
There have been occasions and will continue to be so throughout Herndon's remaining schedule in which the Hornets will have to play at less than full strength.
"We have had to play everyone this year with lots of boys missing games due to club [team] showcases," said Lanigan, a renowned club coach himself. "We were missing seven starters for the Madison game. We ended up tying [the Warhawks] 2-2."
That deadlock versus non-district opponent Madison, a member of the Liberty District, took place on March 23 in Vienna. It marked Herndon's second tie finish this season, the first coming four days later in a match at Jefferson (Liberty District) that ended 1-1.
Herndon's four wins thus far, all coming at home, have been against non-Northern Region opponent Broad Run (Dulles District), 7-1, in the season opener on March 12; South Lakes (Liberty District), 2-1, on March 21; First Colonial High of Virginia Beach, 2-1, on March 24; and Stone Bridge High (Liberty District) of Ashburn, 2-0, on March 29.
HERNDON'S PATRICK McLaughlin, one of the region's top players, tallied five goals in the season opener win over the Spartans of Broad Run. The senior midfielder scored his team's lone goal in the 1-1 tie versus the Jefferson Colonials and had an assist in the close game win over the South Lakes Seahawks. McLaughlin missed the last couple of games due to club team commitments.
Another key scorer for Herndon has been senior striker EK Korvah, who has three goals and three assists on the season.
"EK is another huge threat up front that other teams need to deal with," said Lanigan.
An outstanding season has also come from Bryant Fernandez, a senior midfielder who has six assists.
"He is the best midfielder in the region," said coach Lanigan.
The Hornets have received a nice boost from newcomer and senior midfielder Abdi Yusef, a member of DC United Academy and a first year high school player.
"He's a very dynamic and fun player to watch," said Lanigan.
In the net for Herndon has been senior Jack Clarke, who has stopped two penalty kicks this season and played a solid all-around game at keeper.
"Jack has been a rock in goal," said Lanigan. "If he plays well and stays healthy we should have a decent chance to get far in the playoffs."
Herndon will work as hard as it can to earn the best seeding it can for the postseason Concorde District Tournament in mid-May. Four teams from each of the Northern Region's four districts will earn seedings for the 16-team regional playoffs, set to take place a week after districts.
"Our goals this year are to win the regular season title and to get to the district and regional finals," said Lanigan.
The two teams which make it to the region title game later this spring will qualify for the eight-team state tournament.
"We want to make a strong showing in states and with lady luck in our corner hopefully bring back a state championship to Herndon High School," said Lanigan, realizing the Hornets still have lots of hard work ahead of them.
Lanigan's squad had an outstanding 2011 season last spring, going 14-2-1 and reaching the district tournament finals before losing to Oakton. Following a first round region tournament win over Yorktown High, the Hornets' season ended with a quarterfinals round loss to West Springfield.
FOLLOWING this week's action against Oakton and Washington-Lee, Herndon is slated to play district games next week versus visiting Chantilly on Monday, April 16, and at Westfield on Wednesday, April 18. Both contests are set for 7 p.m. starts.