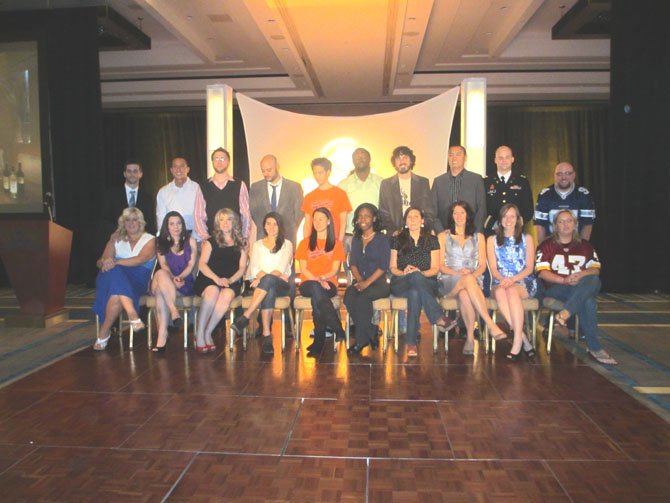 On April 4 at the Hilton McLean, ten couples vied to win a wedding package valued at $28,000. And all each couple had to do was to convince a panel of judges, through video or live performance, that they deserved to win the contest. An earlier essay competition narrowed the finalists to ten. Contestants had to tie-in their love to Fairfax County and Tysons Corner.
Contestants came from Vienna, McLean, Great Falls and Herndon, as well as points north and south. Hilton McLean, in partnership with local businesses, including Vienna's Karin's Florist, offered a wedding reception complete with photography and flowers. Hilton Barbados provided a four-night honeymoon and U.S. Airways offered complimentary air travel to Barbados.
"I found out about the contest two days before the essay contest ended," said Dominque Best, who graduated from James Madison High School in 2000. She and her fiancée Duc Pham live and work in Vienna. The money they have been saving will go toward their wedding or a house. "We're gravitating more toward saving for the house, now," said Best.
Christina Wong and Peter Huang met at Virginia Tech, from which the two graduated in 2010. They returned to campus on 2011; Huang proposed to Wong on the Virginia Tech gazebo that sits alongside the duck pond. They live in Great Falls and Tysons Corner is a familiar spot to them.
Danielle Proulx, a veterinarian, and Victor Sanguanboon, a federal agent, met at a doggy happy hour. Sanguanboon hid the engagement ring in the limbs of their Christmas tree on Dec. 11. They and their pets live happily in McLean, planning a summer wedding of their own making at the McLean Hilton.
While many couples aired videos of their lives together, some tried a different approach, from creating a live in-the-future scenario to a talk-show. Several of the couples had children, another couple was awaiting the prospective groom's Afghanistan deployment. Each couple had a story to tell and most of the stories included a family dog or two. The winning couple, from Alexandria, are expecting their second child, both miracle babies.
Hilton McLean served drinks and laid out a small-plate spread. Nobody left a loser. Every couple received a goody-bag with certificates for discounts, including ten percent off a Hilton wedding, a free night at the property and dinner for two at Harth, the hotel's restaurant that specializes in locally-produced ingredients. The chef grows his own herbs and peppers and tends to a beehive on the roof.
As disappointed as many couples were, most thought it was a good experience.
"It was a contest," said Proulx. "There was one winner and nine losers. It was nice of the Hilton to do this. We had fun doing it.
"All we really want is a wedding with family at it."