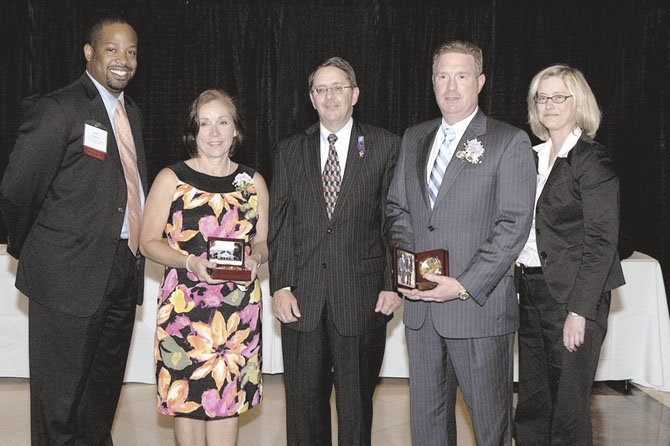 Centreville — Every year, each member of the Fairfax County Board of Supervisors selects two people from his or her district to honor as exceptional citizens. They're presented at a board meeting and honored with a dinner prior to the annual Celebrate Fairfax event.
This time, Supervisor Michael R. Frey (R-Sully) chose Virginia Run's John Cleveland and Sully Station's Jennifer Campbell, respectively, as Lord and Lady Fairfax. Both have a long history of volunteerism, especially with Westfield High.
"For more than 17 years, Jennifer's given countless hours to Fairfax County schools as a dedicated PTA volunteer," said Frey. "As a member of the Executive Board, she worked on boundary changes, honors classes and safety issues. As a substitute teacher, Jennifer learned she had a love for serving as a mentor, communicator, teacher and advocate. She also formed a substance-abuse-prevention education group, the Westfield Community Coalition."
She and her husband Ron have two children, Olivia and Ben. Last year, Jennifer was named Virginia PTA Secondary Volunteer of the Year. She's now a transcript assistant at Westfield High where, for the past seven years, she's "poured her heart and soul into the school PTSA," said Frey. "Jennifer's tireless dedication to Sully District schools makes her an excellent representative for Lady Fairfax."
Regarding Cleveland, as president of Westfield High's Athletic Booster Club, he's been responsible for the $1.5 million Capital Improvements Campaign that has funded projects including the artificial-turf field in the stadium, a comfort station and a lacrosse wall. The Booster Club also contributed equipment, uniforms and supplies for various sports programs.
Two Local Volunteers Make a Difference
John Cleveland and Jennifer Campell have a long history of volunteerism in the local community. Below, they discuss some of their accomplishments and what makes them so giving.
CAMPBELL
Jennifer Campbell first became involved in the PTA because she wanted to feel part of the community and make a difference. She then spent 13 of her 16 years in the PTA on the executive boards of her children's elementary, middle, and high schools.
She dealt with issues ranging from traffic-light installation to charter-school challenges, boundary changes, teen substance abuse, parental prevention programs and the impact of diminishing honors classes.
"We also faced challenges that significantly tested our character," said Campbell. "There were the 9/11 attacks, the D.C. sniper, the Sully Police Station shooting and the Virginia Tech tragedy where two Westfield High alumni were lost."
Through all those things, she was a mentor, communicator, substitute teacher and advocate at Westfield. "I thoroughly enjoyed it, and the school's motto, 'Each One, Reach One, Teach One,' is something I seek to support in my actions," she said. "I've loved each time I can bring a smile to a student's face, even for something as simple as recognizing their name or giving a compliment or encouragement."
With Campbell's certification in Substance Abuse Studies from the University of Connecticut and years of work in this field, she was a natural fit for the Westfield Community Coalition for safe and drug-free youth. She also wrote a monthly column about those issues in the school's newspaper for more than five years.
Campbell helped organize various, informational programs on substance-abuse prevention for both parents and teens. And she's now doing the same thing with PROTECT, a local grass-roots group of parents and professionals.
"I've enjoyed surrounding myself with energetic people who care about the same things I do," she said. "I marvel at how everything always seems to come together in the end. Sometimes it just takes a couple of bright ideas, people willing to put in time and others coming to agreement."
All in all, said Campbell, "I have many people and things to be thankful for. But if I can make some kid's or parent's day even a smidgen better by what I do, it's worth it. And my husband Ron and children have been incredibly supportive."
Campbell believes strongly that "you get back what you give. Parental involvement helps build stronger communities and give kids essential ties to their communities. Ron was a Scoutmaster for a Boy Scout troop for five years, and seeing both parents so involved set the bar for our kids. They learned to work hard, live honestly and get involved in things that serve others. I am so proud of that legacy."
CLEVELAND
When John Cleveland became the Athletic Boosters president, five years ago, he and Campbell met with Principal Tim Thomas and other administrators to create a 10-year roadmap for the school.
"Our objective is to help all the students and parents experience Westfield, not just go there," said Cleveland. "Enhancing school spirit and having a high-quality school with everyone working toward a common vision is one of our core values. When any department wins a state championship, we all celebrate."
With input from Westfield Director of Student Activities Terri Towle, the Athletic Boosters established goals dealing with capital improvements, equipment and scholarships. Then they brought in the parents and business community to raise the funds they needed. So when Westfield built a comfort station, a couple years ago, parents and businesses gave $225,000 in time, equipment and supplies toward the project's $300,000 cost.
Equipment includes uniforms and coaches' training. "We provide championship equipment to build championship teams, plus the energy to support our kids," said Cleveland. "And at our spring sports banquets over the past 12 years, we've given away over $100,000 in scholarships. We give an equal number and monetary amount to both boys and girls."
He said parents are happy "to be part of something exciting and high-energy. Whether our kids win a championship or not, we want them to know we're right there with them." Cleveland said the school's now working on what it wants Westfield to be in 2020.
He said Supervisor Michael R. Frey (R-Sully) and Sully School Board representative Kathy Smith have also given Westfield great support, whenever it's needed assistance and guidance. And so have the schools' youth partner, CYA, and its business partner, The Aerospace Corp., said Cleveland.
When asked why he volunteers, he replied, "I played sports, myself. And being part of a team — and enjoying its journey and success as a team — gives me a lot of happiness and excitement. Seeing the community have something to rally around and contribute to is also important to me. I tell my kids, as well, to take part in their school, church, community, etc., and make them better."
Stressing that people are more powerful collectively, Cleveland said it's important to maintain the momentum that Westfield's established. "So Jennifer and I continue to recruit good parents into an organization that continuously reinvents itself," he said. "That way, we'll continue to have the great school that we do."
Cleveland works for ExxonMobil and he and his wife Beth have three daughters, Megan, Courtney and Kellie. "John also championed the selection and awarding of more than $75,000 in scholarships to deserving WHS athletes," said Frey. "He's also been active with the WHS PTA, Our Neighbor's Child, Fairfax Church of Christ and SYA. John's remarkable contributions to the community make him an outstanding Lord Fairfax."
"I'm surprised and quite honored to be recognized as Lady Fairfax," said Campbell. "I've spent a great deal of my 'spare' time volunteering — not only for the pleasure of it and meeting other people, but to contribute to the growth of our ever-changing community. Adult volunteers are key to helping develop resilient children, regardless of what challenges they face. One not only needs to do what is for the betterment of their own children, but also for others. Perhaps when they're older and able, they'll pick up the torch and pass it on."
Cleveland said he was pleased to be recognized with Campbell, who he considers a friend and partner at Westfield. "For them to honor academics and athletics at Westfield was special to me," said Cleveland. "We're happy to share this together. It reflects all the people that have joined in our collective vision for Westfield. We're one family focused on common goals, and we're honored, on behalf of the whole Westfield family."