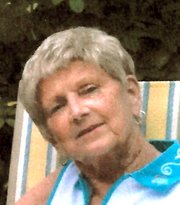 Alexandria — Ruth Delones Seaton, 82, of Stuart, Fla. died on Thursday, Aug. 2, 2012 at Treasure Coast Hospice in Stuart.
Ms. Seaton was born in Florence, Ala. and had been a resident of Stuart, Fla. coming from Alexandra. Prior to retirement she had been a medical assistant for over 15 years in Alexandria.
She is survived by two sons, Donnie Seaton of Maryville, Tenn. and Keith Seaton of Spring City, Tenn.; one daughter, Rhonda Keeling of Upper Marlboro, Md.; two grandchildren and two great-grandchildren. She is preceded in death by her husband, Bill M. Seaton, and one brother Lowell Delones.
The family will hold a private memorial service at a later date.
Memorial Contributions may be made to the local humane society.
Arrangements are entrusted to Treasure Coast Seawinds Funeral Home & Crematory, Stuart, Fla.
Condolences maybe expressed at: www.treasurecoastseawinds.com.