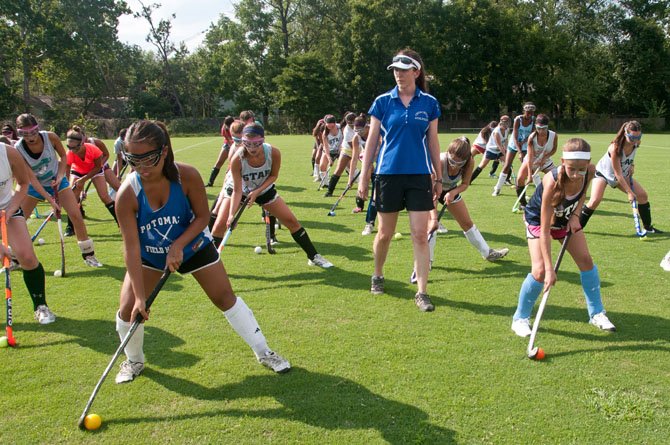 Churchill teammates Jenn Shim and Alyssa Weiss competed in a drill called "stealing the bacon" during a recent field hockey camp. With a ball placed between them, the Bulldog rising seniors charged at one another in hopes of arriving first and gaining control. Instead, they crashed into each other and Shim's goggles dug into Weiss' left cheek, leaving a wound that required three stitches.
"It was not good," Shim said.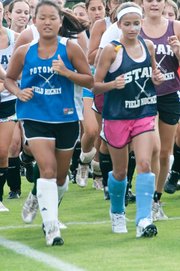 While offseason hustle and hard work will aid Shim and Weiss as they lead the Churchill field hockey team's effort to build on a breakout 2011 season, they are likely hoping for a less painful result.
Churchill won its first eight games last season and earned the No. 1 seed in the 4A West Region. The Bulldogs defeated Northwest and Wootton to reach the region final, but fell short against Bethesda-Chevy Chase. Churchill's 12-3 final record and region runner-up finish constituted quite the improvement over its 4-9 mark and first-round playoff exit in 2010.
"Last year when we started winning games, it was amazing," Weiss said. "As we kept going, we kept winning and were like 'We can do this,' and we really set our sights on being strong and having a top seed. Every game was a confidence booster."
One year later, the Bulldogs, minus nine graduated seniors, have increased expectations.
"I think we're really confident going into the season and everyone is so excited," Weiss said. "Coming off of last year, we have so much momentum and we feel more comfortable with each other."
Shim tied for the team lead in scoring last season, producing 12 goals and 13 assists. The junior captain was also 2 for 2 in strokes. She will likely be the focal point of opposing defenses this year, something Shim said is motivation.
"It just pushes me," she said, "to work harder and go all out."
Head coach Cay Miller spoke highly of Shim's leadership.
"She's a leader in the game, she's a leader in practice and she's a leader off the field," Miller said. "She does a really good job of bringing the team together."
Miller calls Weiss a "scrappy" player with strong tackling skills as a defender.
"She's really good at just stripping the ball from players," Miller said, "and her knowledge of the game is incredible."
"The experience of getting to the regional finals last year was a great experience and the girls who were a part of the program for that last year now have that expectation of themselves — 'Oh, we can do this and let's work hard to try to get to this point again.'"

— Churchill field hockey coach Cay Miller
Senior defender Allie Amoroso and junior midfielder Jamie Lescht figure to be key contributors for Churchill, along with senior goalkeeper Melanie Maino and senior midfielder Mary Lee Lawrence. Seniors Christina Michaels, Catherine Roberts and Sara Gallagher each have experience.
Churchill opens the 2012 season at home against Wheaton at 5 p.m. on Friday, Aug. 31, followed by road games against Einstein (Sept. 5) and B-CC (Sept. 12).
Churchill has been on the big stage, reaching last year's region final. Now the Bulldogs will try to find a way to get back.
"The experience of getting to the regional finals last year was a great experience," Miller said, "and the girls who were a part of the program for that last year now have that expectation of themselves — 'Oh, we can do this and let's work hard to try to get to this point again.'"