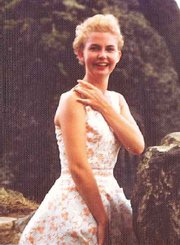 In 1952, Doreen Provost finished college at UCLA and was hired as an assistant buyer in the bridal department at the Joseph Magnin Company, which was a high-end department store specializing in women's fashion in San Francisco. "In those days, a bridal consultant was the person who not only sold you your wedding dress, but offered advice and services on all aspects of a wedding," said Provost. In January 1954, Provost was called on to assist a couple getting married at City Hall in San Francisco. That day, Provost walked into the designer salon to find Marilyn Monroe and her fiancé, Joe DiMaggio.
"Everyone was making a fuss over DiMaggio, because of course he was San Francisco's golden boy," said Provost. But Provost was focused on Monroe, who she said appeared "nervous and out of her element." The couple indicated that they wanted to have as traditional a wedding as possible, even though they could not be married in DiMaggio's Catholic Church due to Monroe's previous divorce.
"Marilyn was sweet, shy and very quiet," said Provost, who helped Monroe finish her outfit for their upcoming wedding ceremony. After Monroe had picked out a suit with a fur collar at Joseph Magnin, Provost helped Monroe find a matching hat and white fur muff. She also made sure Monroe had something old (her earrings), something new (her suit), something borrowed (a sales lady's handkerchief) and something blue (a garter from Provost's department).
"She thanked me profusely as she left," said Provost. "But what I learned that day was that beauty, fame, money and a charismatic husband cannot overcome feelings of insecurity."
Just eight years later, Monroe was found deceased at her home at only 36 years of age. Provost remembers hearing of her passing, which occurred 50 years ago this month on Aug. 5. "I thought, 'I don't believe anything I'm hearing,'" said Provost, who remembers Monroe as an unassuming woman seeking just a little confidence. "The waste of that sweet young woman still haunts me."
Provost, now 81, lives at Greenspring retirement community in Springfield, where she has resided since 2001.
Additional information about Greenspring can be found at www.ericksonliving.com.