Centreville — Despite high unemployment rate, many companies in the technology and research industries have unfilled positions because they cannot find enough skilled workers. In response to this maldistribution of skills, the General Assembly plans to commit $1 million over the next two years to expand Northern Virginia Community College's SySTEMic Solutions program.
The ultimate goal of the program is to encourage K-12 students to study science, technology, engineering, and mathematics (STEM), earn a two-year or four-year degree, and become employed by a technology company. Since its inception nearly three years ago, over 1,000 students have entered into the "pipeline," a term used to describe the education-to-occupation goal.

The $1 million commitment will help expand the program into Alexandria, Arlington, Fairfax and Loudoun school districts. It is estimated that by 2015, 3,000 students will be in the SySTEMic Solutions pipeline.
Students in Prince William County, Manassas, and Manassas Park have been introduced to the sciences early. Engineers from local technology companies such as Aerojet and Micron Technology come into those elementary school classrooms and show students dry ice and have them make lemon-powered batteries.
"What we're really hoping is to catch you before you're in high school," said Amy Harris, director of NOVA's SySTEMic Solutions.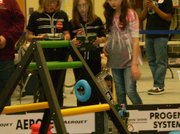 Additionally, the program offers extracurricular activities and summer camps. In elementary schools, students can participate in an after-school robotics team called First Lego League. There are middle school and high school teams as well, so that the program can continue to make STEM fun and engaging. This past April, a Manassas Park Middle School team qualified and participated in the World VEX Robotics tournament in Anaheim, Calif.
"Students are making connections with what they are learning in robotics and what they are learning in the classroom," said superintendent of Manassas Park Public Schools, Bruce McDade, in an email, "plus, in order to be a part of the program, students must be successful in the classroom, so the program serves as a great motivational tool as well."
In high school, students are then given STEM counselors who help with course selection, study skills, extracurriculars, and preparation for college. Students are also visited by engineers and researchers, who give additional advice about colleges and careers. Finally, when they are enrolled in George Mason University or NOVA, students have access to internships.
But SySTEMic Solutions hasn't just benefited public schools. The program has been a boon to local technology and research companies, who are dependent upon a highly skilled workforce and recognize the lack of STEM funding. Corporate partners, which include Micron Technology, Aerojet Corporation, Insystech, and Lockheed Martin, help fund programs and educate students about job opportunities.
For nearly three years, Aerojet has contributed $45,000 towards SySTEMic Solutions. "We do this because this could be our future workforce," said Wanita Garcia of Aerojet, "we recognize that our school systems need assistance from industries."
SySTEMic Solutions is a part of a greater effort for NOVA to collaborate with local companies to better prepare students for employment. Micron Technology has used NOVA educators in 2005-6 to retrain their workforce after automating one of their semiconductor factories.
Most students in the program are first generation college-goers, and many of them come from moderate or lower income families.
Both educators and engineers seem to agree that further funding in STEM will help reverse the negative economic trends. "We need to prepare our students for the opportunities that exist, and will only magnify in the future, in our very own backyard," said McDade. "We need well-qualified students to make our workforce strong so that we may compete in the global economy."