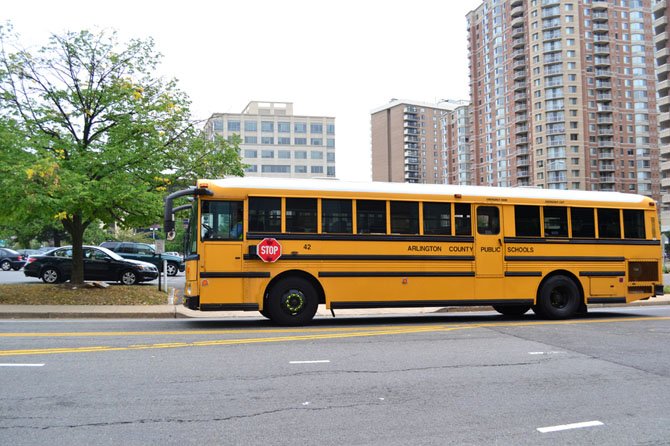 Arlington — In a letter sent out to parents in July, Superintendent of Schools Patrick Murphy said that elementary students who live more than one mile from school and middle and high school students who live 1 and a half miles from school will still receive bus transportation. What will be changing is that students who ride the bus will receive a voucher that they will show to get on the bus.
Murphy said in the letter that after hearing complaints from parents about the bus system, he "initiated a bus transportation evaluation by an outside consultant who specializes in that area."
"After reviewing the consultant's evaluation report and sharing it with the School Board and community last fall, the Office of Transportation initiated a plan of action to address many of the concerns that have been shared with our principals, transportation staff, and me. Implementing such a plan will position us for the future and at the same time ensure that our APS transportation system operates safely to best serve our students and families," said Murphy
According Frank Bellavia, a public relations specialist for Arlington Public Schools, some students who live within walking distance of their designated school would walk a few blocks to take the nearest bus, which has led to overcrowding on some of the buses. 
The voucher will "be able to let the bus driver know who's allowed on the bus and who isn't," said Bellavia,. He also said that if the parents of students who can walk to school have a special reason as to why their children should ride the bus, they would need to get special permission from the Office of Transportation.
However, a group of parents whose children attend Taylor Elementary School are concerned about the plan. In an email, Tracie Dougherty, a Taylor parent, said that her neighborhood and her friends' neighborhoods might lose bus service this year.
"While we don't yet have official notification from the county, my conversations with APS Transportation Services leave me quite convinced that the county, in its attempt to overhaul bus services, has either inadvertently or deliberately taken action that will remove bus service for any home that is less than a mile from Taylor Elementary School," said Dougherty, in the email. "This change is despite the decades old practice of providing bus service to many of us who live across busy streets such as Military Road/Nellie Custis."
Pam Girardo, another Taylor parent, said in an email interview that many "children are now designated as 'walkers,' having previously been designated as 'bus riders.'" She also said that these "children were not 'illegally' hopping on the bus to avoid walking to school."
In a letter sent to Taylor Elementary School parents by Rob Hindman, the principal of the school, he wrote that there will be a crossing guard at Military Road, one of the busy roads that has parents such as Dougherty concerned. He also said that he would be happy to work with the families who are affected by this change to look at ways "we can support our walkers with Walking School Buses, drop off areas around the school, or other strategies."
"I want to assure all Taylor families that I will work with you to help facilitate this transition as we prepare for the beginning of a new year," said Hindman, in the letter to parents.