More than 30 elementary, middle and high school students from Herndon and Oak Hill will dance in the Conservatory Ballet's 40th anniversary production of the holiday classic, "The Nutcracker." Performances take place at the Reston Community Center's CenterStage Dec. 5-9.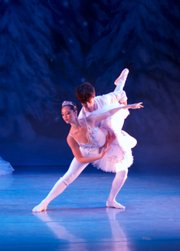 This year's performances showcase the talent of two of Herndon/Oak Hill's graduating seniors, Georgina Greenleaf and Zahra Mahbub. A student at the conservatory since she was 2 years old, Greenleaf has appeared at the Kennedy Center with American Ballet Theater's Sleeping Beauty and New York City Ballet's Midsummer Night's Dream and attended the Bolshoi Ballet's 2011 & 2012 summer intensive programs. Mahbub, in her ninth year with the conservatory, has performed with the school at the International Children's Festival at Wolf Trap.
WELL KNOWN for its elaborate costumes, vivid scenery and riveting choreography, the conservatory's full length Nutcracker production takes audiences to a magical world where enchanted dolls, graceful angels, sparkling snowflakes and lively fairies come alive, and a courageous wooden toy soldier battles the evil mouse king.
Producing the Nutcracker is no small feat. With an average of 69 parts appearing 223 times per performance, Artistic Director Julia Redick assembles four casts to produce eight shows in five days. The planning and preparations for the Nutcracker start in the summer with daily rehearsals in full swing by October. "The Conservatory is a performing arts school," said Redick, "and the Nutcracker provides our students performance opportunities so critical to their artistic growth. Its appeal to young and old alike makes it a perfect opportunity to introduce children to the power and beauty of ballet."
Established in 1972, the conservatory offers early childhood, pre-professional and adult ballet instruction. "For the past 40 years, our students have performed throughout the community, demonstrating excellence, and above all, earnestness—a dedication and determination driven by the sincere passion to be their best selves," said Redick.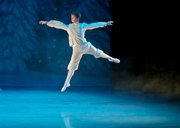 The conservatory's curriculum program produces more professional ballerinas than any other pre-professional dance academy in the greater Washington area. Conservatory students have appeared with visiting companies at the Kennedy Center, including the Mariinkys (Kirov), Bolshoi, Royal, New York City, Pacific Northwest and Royal Danish. A number have gone on to dance professionally with ballet companies such as The Mariinsky, English National, San Francisco, Boston and Miami City and The American Ballet Theatre.
THE NUTCRACKER is based on a German tale written by E.T.A. Hoffman and set to music by Pyotr Illyich Tchaikovsky. It was first performed in 1892 by Russia's Kirov Ballet. The Nutcracker tells the story of a young girl, Marie, who is given an enchanted wooden nutcracker soldier on Christmas Eve by her mysterious uncle, a toymaker. That night she awakens to a fairytale world. As the Christmas tree grows taller, toy soldiers and mice turn life size. Her brave Nutcracker comes to her rescue and battles the evil Mouse King and his army. Upon defeating his enemy, the Nutcracker is transformed into a prince who takes Marie on a magical journey through the Land of Snow to the Kingdom of Sweets. The Sugar Plum Fairy greets them and calls for a celebration where charmed flowers, whirling Russians, exotic Arabian girls, fiery Spanish dancers and other joyful characters entertain Marie.