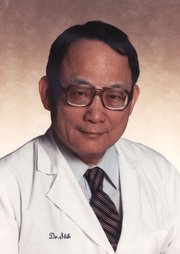 Dr. Teh-chang Shih, who served the Alexandria community for 32 years as a staff internist at Inova Alexandria Hospital — from 1970 until his retirement in 2002 — died at home in Alexandria on November 27, 2012. He had suffered a stroke a week earlier and was 82.
Dr. Shih was born in the port city of Quazhou, Fuijian province in southern China in 1929. After graduating from community college there in 1947, he moved to Taiwan to work as a math teacher before attending medical school at the National Taiwan University, where he met his wife, Catherine. He immigrated to Canda and served a medical residency at McGill University (Canada) and earned a Master's in Science at the University of Alberta. He and Catherine finally settled in Alexandria in the late 1960s and he started work at the Alexandria Hospital in 1970.
As a staff internist at the city's hospital, Dr. Shih took care of thousands of Alexandria's poor and uninsured. His family and colleagues remember that, for 30 years, he was tireless in his devotion to his patients, working long hours to ensure their proper care. He diligently worked to expand his medical knowledge, earning subspecialty certifications in endocrinology and geriatrics. He was a Fellow of the American College of Physicians.
During his nearly 10 years of retirement, he traveled to the places he had long wished to see — the Grand Canyon, Paris, Alaska. He also made several trips to his native China and Taiwan. He contined to keep up on new developments in medicine. And he considered himself lucky to witness the birth of and to spoil his four grandchildren.
He is survived by his wife, Catherine Shen Shih, of Alexandria; his daughters, June Shih, of Alexandria and Sandra Shih, of Baltimore, two brothers, Teh-Jui Shih, of Taichung, Taiwan; Deshui Shi of Quanzhou, China; two sisters, Deqi Shi and Dewan Shi of Quanzhou, China; and four grandchildren.
A celebration of his life will be held on Dec. 12 at 6:30 p.m. in the Lyceum, 201 S. Washington St., Alexandria.