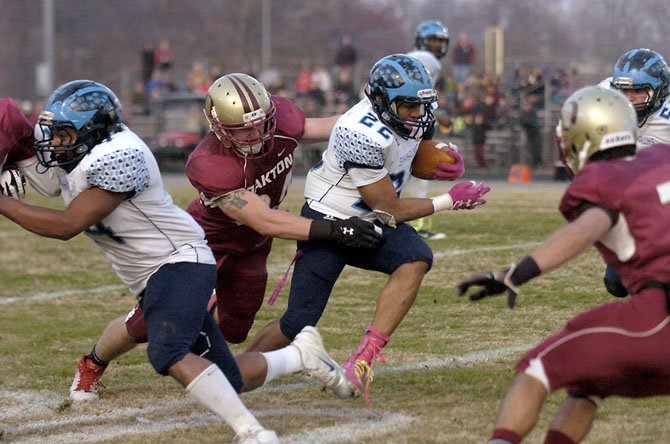 Vienna — A gritty toughness drove the underdog Oakton football team to a berth in the state playoffs. Once there, an elusive running back wearing pink socks with bunnies on them ended the Cougars' season.
L.C. Bird senior Paul Robertson rushed for 426 yards and five touchdowns and the Skyhawks defeated Oakton, 41-17, in the Division 6 AAA state semifinals on Saturday, Dec. 1 at Oakton High School. L.C. Bird will face Ocean Lakes in the state championship game on Saturday, Dec. 8, while the Cougars' postseason run, which included knocking off the top three seeds en route to a Northern Region title, came to an end.
After struggling at the end of the regular season, the Oakton defense limited opponents to 14 points per game during three regional playoff contests, holding Lake Braddock (13), Centreville (13) and previously undefeated Westfield (16) to season-low point totals. Against L.C. Bird, however, Oakton allowed Robertson to produce the 11th greatest single-game rushing total in state history, according to the football records section at vhsl.org.
Robertson referred to his pink socks as his "good-luck" socks, saying he has totaled more than 250 yards each time he's worn them.
"We all saw [the Cougars] put their heads down," said Robertson, describing how the Skyhawks' ground game affected Oakton, "so we knew we had to keep going and just get this game over with."
A 78-YARD TOUCHDOWN run by Robertson gave L.C. Bird a 27-3 lead with 3:48 remaining in the second quarter. Oakton responded with an 11-play, 65-yard drive, capped by a 1-yard touchdown run by quarterback Kyle Downer. The score cut L.C. Bird's lead to 27-10 with 29 seconds remaining in the first half and gave the Cougars a glimmer of hope as they would receive the second-half kickoff. But the Skyhawks quickly squashed that hope on the next play from scrimmage as quarterback Terrance Ervin threw deep to Darius Hawkins for a 49-yard gain down to the Oakton six-yard line. Robertson scored on the next play, extending the Skyhawk lead to 34, 10 seconds before halftime.
"Coming out of this game, I really have no regrets," Oakton senior defensive lineman Joe Allely, a team captain, said. "I played my heart out. I believe that our defense, even though we made mistakes, we all played our hearts out. . . . [Robertson is] a fast kid. He definitely delivers a blow. He's good with his cuts and he can make a play when his blocks aren't there. But you can't let that get to you as a defensive player and you've got to compete with him."
On offense, Downer carried 19 times for 72 yards and two touchdowns. He completed 13 of 22 passes for 135 yards and was intercepted once. Bobby Lam carried four times for 36 yards. Mike Wandey rushed for 23 yards on 10 carries and caught five passes for 51 yards.
"I felt like, offensively, we had some things working," Oakton Head Coach Jason Rowley said. "We had a hard time getting off the field on defense."
Oakton starting left tackle Chris Durant missed the game due to a knee injury, Rowley said.
OAKTON FINISHED THE SEASON with a nine to five record. The Cougars started six to zero before closing the regular season with a four-game losing streak. Oakton finished fifth in the six-team Concorde District and entered the playoffs as the No. 7 seed in the Northern Region. The Cougars beat No. 2 Lake Braddock, No. 3 Centreville and No. 1 Westfield to win the region title.
"It was unbelievable," Wandey said about the Cougars' run to a region championship and trip to states. "It was an amazing feeling, a great ride. We never gave up. We kept believing and we knew that we were a great team."
Oakton captured its first region championship since 2008 and reached the state playoffs for the fourth time since 2002.
"I've been a part of four state playoff teams [with Oakton]," said Rowley, who was the team's defensive coordinator before taking over as head coach in 2011, "and these guys . . . battled and clawed and scraped their way to that more so than any of those others that we've been a part of in the past."