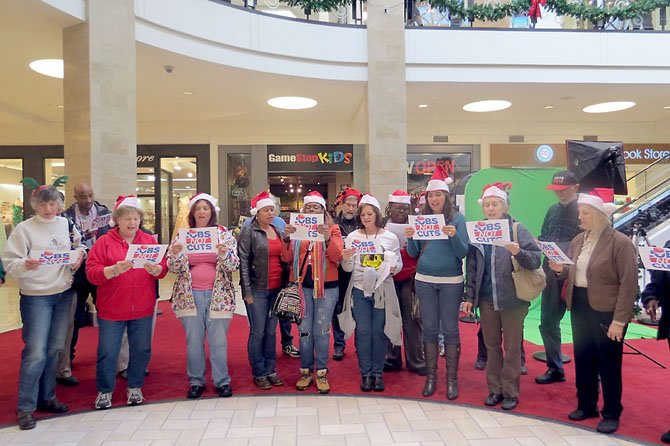 On Monday, Dec. 10, a group of 30-40 residents of Northern Virginia and beyond met by the entrance of California Pizza Kitchen in Tysons Corner Center in preparation to go caroling. Rather than singing holiday favorites, however, the group planned on singing about the fiscal cliff to spread awareness about ongoing federal budget concerns.
"[Caroling] ties into the Christmas season and it's fun and energizing for folks as opposed to just a normal rally," said Anna Scholl, the executive director at Progress Virginia and one of the coordinators for the event. "It was a fun way to get folks involved and have their voices literally heard."
As noon approached, the group of volunteers grew gradually as many practiced the lyrics to the carols and others talked amongst themselves before making their way through the mall. By 12:07 p.m., the group settled in front of the Santa set, located near Nordstrom, and began singing "Revenue! Revenue!" to the tune of "Jingle Bells." The musical rally was short-lived, however. Within only three minutes of starting, the group was told to stop by security personnel.
The carolers continued to sing as they made their way through Nordstrom and across the parking deck towards Senator Mark Warner's Vienna office, located next to the mall, where they were met by Deputy State Director Ann Rust. Standing in the elevator lobby on the second floor of Senator Warner's office, volunteers listened as some took a few moments to share their personal stories with Rust.
"I think the folks here really felt they got the message to Senator Warner's staff in a creative, friendly way but made sure that they understand that middle class families have a lot at stake in these negotiations," said Scholl.
After traveling four hours from Norfolk to take part in the event, Julia Newtown was the first to share her story. She informed Rust about her 29-year-old son Antoan, his dependence on Medicaid and the devastation they would both face with even a 0.5 percent cut to Medicare's budget. Jameel Soni of McLean followed, talking about her urgency to protect social programs and sharing stories about loved ones and friends who depend on such programs.
Members of various organizations, including Progress Virginia, Service Employees International Unions, Move On, Virginia Organizing and Virginia AFL-CIO also took part in the caroling demonstration that took place not only in Vienna, but also across the state in Norfolk and Roanoke in the same day.
"We really want to make sure Senator Warner takes his constituents and middle class families into consideration in these negotiations," said Scholl, "to make sure that he protects middle class tax cuts, asks the wealthy to pay their fair share and protects the social safety net programs like Medicare, Medicaid and Social Security that a lot of people depend on. Cuts would be really devastating to a lot of the folks here today. It's important for middle class families to stand up and make their voices heard."
More like this story